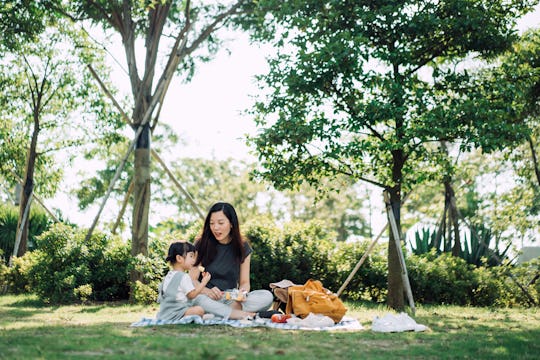 d3sign/Moment/Getty Images
15 Summer Dinners You Can Have On The Go If You're Tired of PB&J Picnics
Summertime is the right time for dining al fresco — especially after an entire spring in quarantine. But if you're tired of soggy poolside PB&Js and pretending like watermelon counts as dinner, these 15 summer dinners you can have on the go will ensure that your family enjoys a balanced meal on your next outing.
Although they may taste delicious, sand-covered chips and dip at the beach is hardly a "meal." (I say this as someone who has let my definition of that word slip quite a bit lately.) Outdoor dinners are an easy way to get everyone out of the house, but the activity isn't without its challenges. Namely, what the heck do you make to take with you?
When it comes to packing up a dinner to enjoy outdoors, I've personally found that having the right equipment is key. An insulated picnic bag, segmented storage containers, and reusable silverware go a long way to ensuring your dinner can be easily enjoyed outdoors.
Sure, you could throw a package of crackers, an assortment of fruits and veggies, and some cheese slices into a picnic basket and call it dinner, but if you're looking for something with a bit more substance, these dinner recipes have you covered.