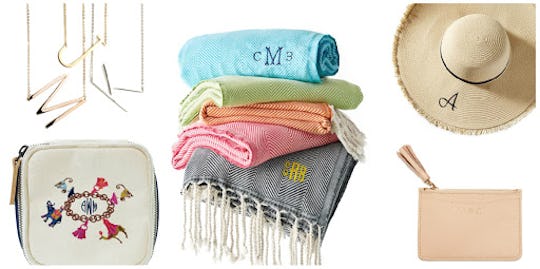 15 Best Personalized Mother's Day Gifts For Moms Who Are All About The Monogram
With Mother's Day just a few weeks away, now is the time to start thinking about gifts. Why so soon? Because not only is last-minute shopping the worst, but if you want to go the personalized route with your present, you'll want to allow for a little extra time. So what are some of the most unique, must-have monogrammed Mother's Day gifts around this year?
Whether you're shopping for your own mom, a sister, or a friend (or you're putting a helpful list of "hints" together for your own partner and/or children), there's no lack of customizable options — no matter what kind of mom the intended recipient might be. From clothes to jewelry to accessories to housewares and more, there's absolutely something for every mom on this list.
And while monogramming might seem unnecessary, the truth is it makes everything a little extra special. Plus, it shows that the gift-giver took the extra time and thought to come up with something that's truly one-of-a-kind. Usually, it won't even cost you anything extra in most cases.
Just remember, don't delay! While there is rush service available for some monogrammed items, others do take a little longer to customize. Luckily, if you start shopping now, you'll definitely be ready for the big day.