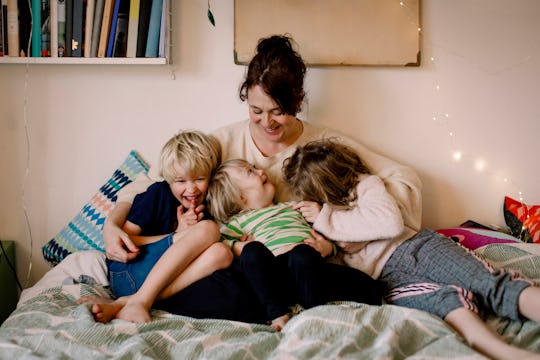 Maskot/DigitalVision/Getty Images
These 15 Positive Quotes Could Be Just What Your Kids Need To Hear Right Now
Sometimes, as a parent, there are times when you notice that your child seems a little… off. They might not be as talkative or peppy, or as interested in engaging in their favorite pastime (i.e. sparring with their siblings). But it can be hard to tell if your child is just bored or dealing with a challenging situation that they haven't told you about yet. When your little one is down in the dumps, it might be time to break out some positive quotes for kids to help lift their spirits and open the doorway for an honest dialogue.
We can get so busy adulting that we forget: Little kids can be dealing with big issues, too. And expressing their emotions might not be as simple as you'd think. That's why you'll need to infuse some inspiration into the situation, and say something that will hopefully help your child feel better no matter what's bugging them. You might choose to weave a positive quote into your daily convo and see how your child reacts to it. Or you could just write a note and slip it under your kiddo's door so that they know you're thinking of them. And if you have a young reader, you could even write it out and read it together.
When your own words fail, as they sometimes do, use some of these quotes as a springboard for a cool conversation with your kid. Who knows, you might even find some much-needed inspiration in these words as well.