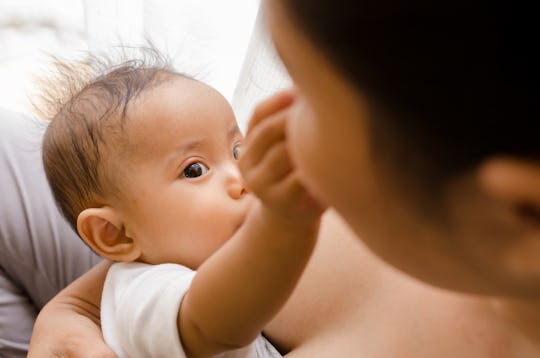 HillLander/Fotolia
15 Real Breastfeeding Questions On Bottles, Weight Gain, & Periods, Answered By An Expert
Breastfeeding can be a hard, isolating, and emotional journey, which is why it's so important to have support. That's why Romper launched a Facebook breastfeeding community, Breastfeeding TBH — to help make feeding another human being with your own body a little easier. Every day readers ask questions because, let's face it, breastfeeding is complicated, and each week in Rack Facts, Romper speaks with a lactation consultant to answer as many of those questions as possible. After all, everyone can use a little expert help, especially when it comes to feeding your kid.
I had never heard of mastitis or clogged ducts until after I started breastfeeding. In hindsight, that was probably a good thing. I'm not so sure if I would've actually breastfed my daughter knowing the painful things that could happen. But it's another part of the breastfeeding journey that makes me want to fist pump every breastfeeding mama out there. Seriously, you could have flu-like symptoms and a hot, lumpy, painful breast because your baby slept through the night for the first time. That's one of the things you're willing to let happen just so you can breastfeed your baby. How amazing is that?
Also, it's a great thing to say to your 17-year-old child when they are being a total brat and you want to embarrass them in front of their friends. "I once had streaky, hard, red breasts because you were too sleepy to eat. You're welcome."
But if you're still freaking out about all of the things that can and do happen while breastfeeding, don't worry. I spoke with Holly Keyes, a lactation consultant for a pediatrics office, to answer real breastfeeding questions about bottles, your baby's weight gain, and if your period affects your breast milk supply. (Make sure to tell your 17-year-old that story, too.)