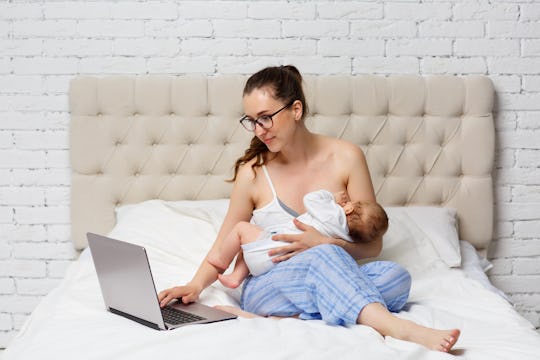 dinaphoto/Fotolia
15 Real Breastfeeding Questions On Clogged Ducts, Exercise, & More, Answered By An Expert
Breastfeeding can be a hard, isolating, and emotional journey, which is why it's so important to have support. That's why Romper launched a Facebook breastfeeding community, Breastfeeding TBH — to help make feeding another human being with your own body a little easier. Every day readers ask questions because, let's face it, breastfeeding is complicated, and each week in Rack Facts, Romper speaks with a lactation consultant to answer as many of those questions as possible. After all, everyone can use a little expert help, especially when it comes to feeding your kid.
My daughter just turned 2 years old, which means I have begun Googling outrageous things like, "What happens if my baby sucks on a wipe?" for 24 months of my life. (Longer if you count pregnancy.) Parenting is full of questions anyway, but when you add in breastfeeding, there's a whole lot more time spent on Google.
How many times have you read "not recommended for breastfeeding moms" or heard that something you were doing was going to affect your milk supply? Dozens, right? And even when you think you've got it all figured out, you still worry that the medicine you're taking for thrush will make your baby sick or that working out will somehow tank your supply. But have no fear, Lori Isenstadt, an International Board Certified Lactation Consultant with over 25 years of experience is here to answer your questions. Isenstadt owns a private lactation consulting practice called All About Breastfeeding where she meets with moms on an individual basis to help with their breastfeeding issues. She also hosts a podcast, All About Breastfeeding, and has a great website full of resources to educate and advocate for breastfeeding mamas. In short, she's the support system all breastfeeding moms need and she's way better than Google.