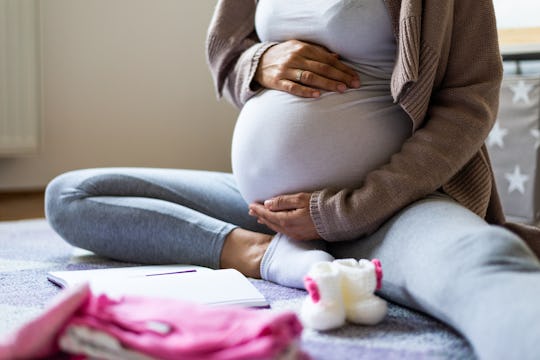 SanyaSM/E+/Getty Images
15 Struggles Women With Gestational Diabetes Know All Too Well
Pregnancy is pretty amazing. You grow something microscopic into something adorable with eyes and fingers and maybe even hair. You can feel your child moving around inside of you. You are filled with love and dreams for this tiny being. It also sucks. It sucks, so, so hard. You get queasy and uncomfortable; You're tired all the time; Your boobs ache; Your sciatic nerve hurts; Your ankles swell; You inexplicably start to smell like Doritos dunked in chicken broth (just me)? But, if you're really super "lucky," you will also experience the struggles of having gestational diabetes.
Gestational diabetes (GD) is weird. It's this mysterious illness that creeps up on you while you're pregnant (for reasons we don't entirely understand) and, as soon as you are no longer pregnant, vanishes as if wasn't even a thing. Most women are routinely tested for "GD" around the 24th week of pregnancy. An estimated 90% of pregnant women, blessedly, will not have to deal with this GD crap.
And crap it is, folks. I know because I experienced gestational diabetes during my second pregnancy. I'll give some words of reassurance to start off, because I know I needed them: GD is, ultimately, not a big deal. It's manageable and you actually get used to it pretty quickly. That being said, OMG it is so goddamn annoying. Know that if you've recently been told that you have GD, you'll get through it (I can assure you), you'll just go through the following struggles, too.