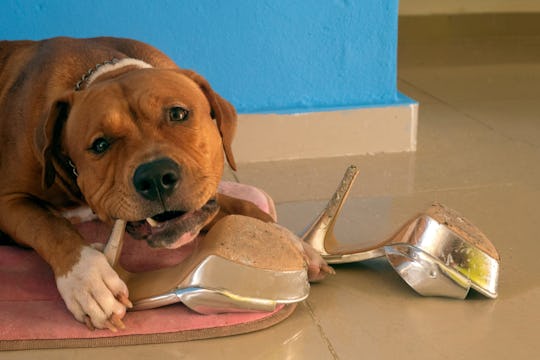 Shutterstock
Your Chew-Happy Doggo Will Love These 15 Toys Even More Than Your Shoes
So, maybe you're a new dog owner who's just brought home an adorable fluffy new friend who loves you to bits… and loves to chew your shoes to bits. Though we've somehow managed to hijack the mighty wolf and reshape it into a cute cuddly friend, they still have the vestiges of a wolf's instincts (and of course, their powerful teeth). One of the best ways to cope with a pooch with a case of canine bruxism is to provide them with plenty of toys for dogs who chew everything.
Communication with your dog is important. Simply saying, "Please don't chew on my new purse, I know it's made of delicious aromatic leather that begs to be tasted, but it does in fact have a greater purpose beyond the understanding of your doggy cognition," as you may have already discovered, has limited efficacy. I spoke to Alexandra Bassett, a certified dog-trainer and lead trainer & behavior specialist at Dog Savvy Los Angeles, to find out why dogs like to chew, and what you can do about it.
Dogs who seems intent on experiencing life through their teeth are exhibiting normal dog behavior, according to Bassett: "Dogs are chewers and 'mouthers' by nature. They explore the world using all of their senses, which includes picking up objects with their mouths to feel them, taste them and learn things about them." She also explains that chewing can be a sign of normal canine development: "Puppies between the age of 3-6 months will start going through a teething process, losing their juvenile teeth as their adult teeth come in, and may seem to want to chew on anything in their path almost non-stop."
But you don't have to throw up your hands and accept that it's a dog-eat-shoe world: "... if a new dog or puppy is home alone and/or goes unsupervised for too long, normal chewing can turn into destructive chewing pretty quick... especially if they are feeling anxious, bored or stressed. That's why it's important to provide them with a variety of appropriate things to chew on, as well as daily physical and mental stimulation, to help them feel balanced and fulfilled," Bassett advises. Here are some of the toys she recommends, some toys I can personally attest to (I've given them to my chew-enthusiast dog), and toys that have been highly rated by purchasers.