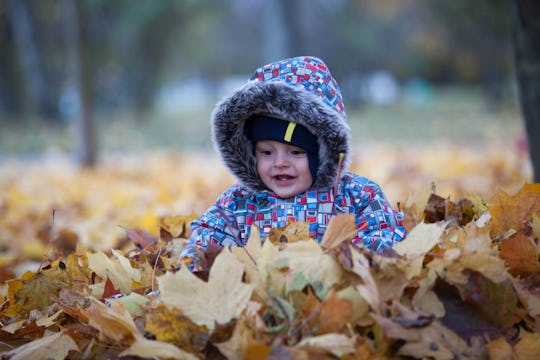 Shutterstock
These 15 Videos Of Kids Jumping Into Leaf Piles Will Make You So Nostalgic
Is there a more tempting sight in autumn than a big old pile of leaves just waiting to be jumped into? Even parents who absolutely hate doing yard work know that hours of raking ultimately lead to a big pay off — the perfect leafy mountain for your little ones to play around in adorably. Watching videos of kids jumping into leaf piles will transport you straight back to your childhood.
So many little ones have a sense of invincibility that totally shines through when you see them taking acrobatic leaps into leaves. I'm not going to lie: Some of these videos made me wince at first, because I was so sure I was about to see someone crack their head open. But in each and every case, the child in question is having an absolutely blast, and pops back up from their crash landing with a massive smile on their face. My grown up bones could definitely not handle it, which makes it even more fun to live vicariously through these kids.
Whether you're a city dweller who's never had the pleasure of diving into a massive leaf pile or a suburban native who remembers the fall tradition fondly, these 15 videos are sure to put a smile on your face.