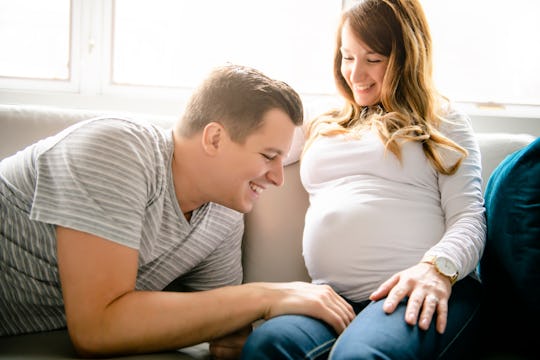 Shutterstock
16 Embarrassing Questions Men Have About Pregnancy But Are Too Shy To Ask
Scene: An OB/GYN's office in New York City. A husband and his pregnant wife are sitting in a waiting room. The woman is calmly reading a magazine while the husband is fidgeting. "Are you going to ask?" he says nervously. "No, you ask," she says. He responds: "But I'm not pregnant." "But it's your question," she answers. That husband and wife were my sweetie and I when I was pregnant with our first child, but we could have been almost any couple. There are lots of embarrassing questions men have about pregnancy, but are too shy to ask.
Despite everything that we've ever learned in biology about reproduction, pregnancy still remains one of the biggest human mysteries. It's just kind of mind boggling how you can grow a human inside of your body, and boom: you're a parent. As confusing as it is for women who are actually going through it, as the helpless bystanders, guys almost have it worse. Bless their hearts, men are kinda clueless when it comes to their partners' pregnancies. They have tons of questions and concerns but are too afraid to ask. Now, though, you can just forward him this article.
I did some crowdsourcing to find out what embarrassing questions men have about pregnancy. And surprise surprise, most of the embarrassing questions men wanted answers to were about sex. Some q's are sweet, some are hilarious, but all of them come from well-intentioned and caring dads-to-be.