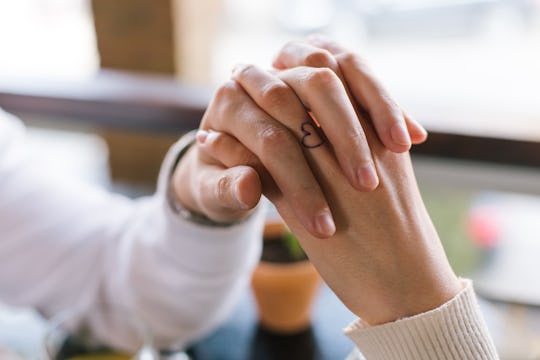 CokaPoka/Shutterstock
16 Fine Line Tattoos For Families That Will Perfectly Represent Your Bond & Love
As if you needed one more reason to swoon over Chrissy Teigen and John Legend's relationship, the pair recently debuted fine line forearm tattoos boasting the names of their children and each other in an Instagram post. They were exquisite, so if you're wanting to join in on the trend of family tattoos à la Teigen and Legend, this list of family fine line tattoo ideas may spark some inspiration.
While Teigen and Legend's family tats absolutely rock, family tattoos don't necessarily have to match or feature family names. According to Wild Tattoo Art, family tattoos come in many shapes and sizes, but most all seek to memorialize family bonds in a way that is significant for the family and for the person getting the tattoo. For example, my sister and I got tattoos together to celebrate my grandmother beating breast cancer, and while each of our designs is slightly different, both include a pink breast cancer ribbon and are meant to reflect our love for our grandmother.
The trend of using fine line techniques to permanently tattoo family names isn't new, but using tattoos to permanently memorialize your family bonds via the fine line technique is more popular than ever thanks to celebrities boasting fine line tats. Tattoos are a way to permanently decorate your body with something meaningful, so for me, I definitely put plenty of thought into my tattoo choices, sometimes even dreaming up ideas years in advance. If you're trying to decide on a fine line tattoo for your family, take a look at these real life examples from Instagram users for inspiration.