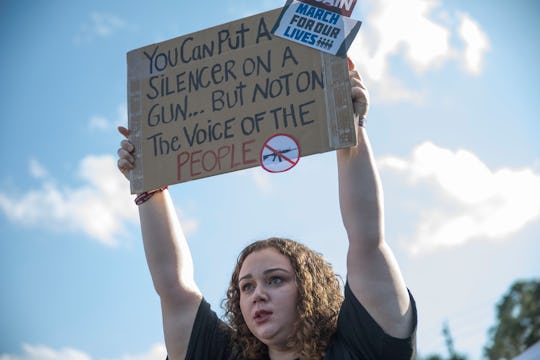 Joe Raedle/Getty Images News/Getty Images
16 March For Our Lives Sign Ideas For Last Minute Inspiration
According to an ABC News article, since Columbine there have been 50 mass murders or attempted mass murders at schools, and 141 people killed "in a mass murder or attempted mass murder at a school." And kids, their parents, and many others have had enough. On March 24, The March for Our Lives protest is happening, and you may need some clever signage — especially if you're so angry all you can come up with is, "Screw you." Here are 16 March for Our Lives sign ideas for last minute inspiration, in case you need them.
The ABC News article also reported 73 percent of school shooters had no prior criminal record or arrests, there are 17 kids who are 15 and younger that attempted (or committed) a mass shooting since Columbine, and 68 percent of the "school shooters got their guns from relatives or at home." All of the information above was taken either from FBI records, the U.S. Secret Service, or the U.S. Department of Education, by the way.
And these stats don't even include the recent school shooting at Great Mills High School in Maryland.
After 17 lives were taken in the Parkland shooting in Florida, March for Our Lives was "created by, inspired by, and led by students across the country who will no longer risk their lives waiting for someone else to take action to stop the epidemic of mass school shootings that has become all too familiar," according to the March for Our Lives Mission Statement. And on March 24, kids, families, and concerned citizens will be marching in Washington, D.C., with 838 sister protests happening all over the world. "The mission and focus of March For Our Lives is to demand that a comprehensive and effective bill be immediately brought before Congress to address these gun issues," the mission statement explained. There will also be guest speakers and artists at these events, depending on your location. Display these 16 signs proudly on March 24.