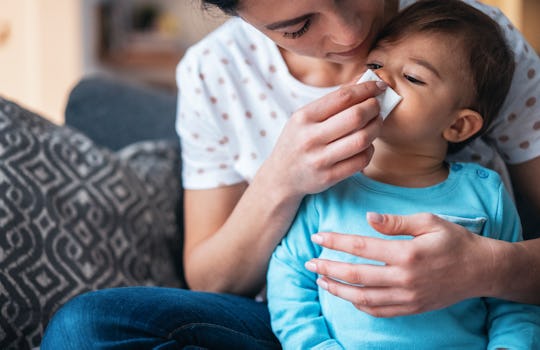 filadendron/E+/Getty Images
16 Products For Flu Season, Because Your Family's In The Thick Of It
Experts are claiming that this 2019/2020 flu season is turning out to be one of the worst they've ever seen, and folks who have gotten their flu shots are still managing to get the flu (though less severe). Thankfully, there are definitely quite a few products to get your family through the flu — with "products" ranging from medicinal to homeopathic, and even things you should already have at your home, like a bathroom with a shower or tub for steam.
Why is this year the worst experts have seen? Dr. Robert Hamilton, a pediatrician at Providence Saint John's Health Center in Santa Monica, California, and author of 7 Secrets of the Newborn tells Romper, "One of the major reasons for this is the annual flu shot — the vaccine that physicians recommend to all of our patients — is turning out to be a bad match for Influenza B, specifically the Influenza B-Victoria strain." So what does that mean for those of us who have been vaccinated? You can still potentially get the flu — but it will be less severe than if you didn't get vaccinated. "Statistics show that this year's flu vaccine is only 58% effective against Influenza B. In other words, if 100 individuals get the vaccine and are then exposed to Influenza B-Victoria, 58 of the 100 will be protected, while the other 42 will get sick," Hamilton says.
And this is why Hamilton warns parents to be on alert for their kids, even if they've been vaccinated. "If their child begins to have high, spiking temperatures, chills, headaches and body aches, the diagnosis of flu should be considered." So if you or your child do end up getting the flu, these products could potentially help make your lives a little bit easier while your body works itself through it.