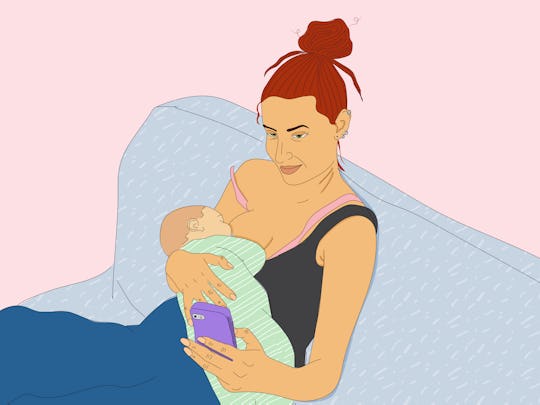 Dawn Foster/Romper
16 Real Breastfeeding Questions & Answers On Supplementing, Pregnancy, & More
Breastfeeding can be a hard, isolating, and emotional journey, which is why it's so important to have support. That's why Romper launched a Facebook breastfeeding community, Breastfeeding TBH — to help make feeding another human being with your own body a little easier. Every day readers ask questions because, let's face it, breastfeeding is complicated, and each week in Rack Facts, Romper speaks with a lactation consultant to answer as many of those questions as possible. After all, everyone can use a little expert help, especially when it comes to feeding your kid.
In theory, breastfeeding sounds like the easiest thing in the world. Your baby latches on to your breast, they drink your milk, and they let you know when they've had enough. Your body creates the perfect blend of nutrients for your little one, and it's the most natural, honest, easiest thing in the world.
Except for when it's not.
Look, there's a lot more to breastfeeding than simply getting your baby to drink your breast milk. There's the issue of trying to pump enough milk so you can go to work. There's the problem of trying to get pregnant while breastfeeding and hearing a million different opinions. There's that moment where your baby decides they want to latch on to your breast for an entire day and you don't know whether to laugh or cry because it's literally the most frustrating thing in the world.
Moms are told to trust their bodies when they're pregnant, and that advice carries over when you're breastfeeding. But it's not always easy, which is why an expert helps. I spoke with Danielle Downs Spradlin, a certified lactation counselor accredited by the Academy of Lactation Policy and Practice. She is a veteran nursing mother who wants mothers to meet their breastfeeding goals, and her practice, Oasis Lactation Services, focuses on science, infant-mother well being, evidence based solutions, and making breastfeeding an enjoyable and healthy time for the whole family. You can follow her YouTube channel for even more breastfeeding tips! (And if you're in the Atlanta area, be sure to reach out to Oasis Lactation Services for all your breastfeeding needs.)