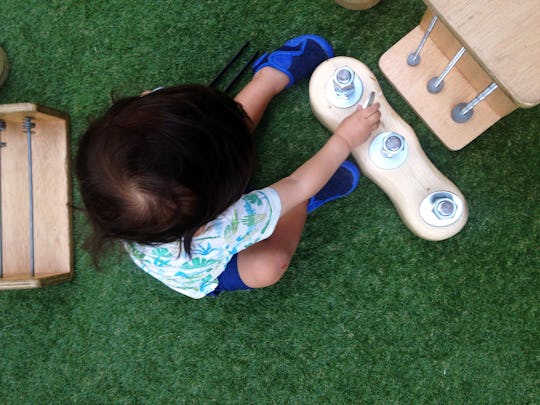 Marvy Andreina Jaimes/Moment/Getty Images
16 Toys Every Montessori Mom Has In Her Home
Montessorian parents follow the philosophy of Maria Montessori in that children should "cultivate their own desire to learn." In keeping with this parenting style, there are definitely certain materials and toys every Montessori mom has her in home. These toys and materials are meant to create a prepared environment that invites children to be independent, inspires their natural desire to learn, nurtures concrete learning, allows them to practice real-life skills independently from a very young age, and to focus on their sensitive periods, according to The Montessori Toddler by Simone Davis. "[Montessorians] do not believe a child is a vessel to be filled with facts. The child genuinely loves learning, making discoveries for themselves, and coming up with creative solutions," the book notes.
You'll notice many of the items on this list below aren't only necessarily "toys," but also materials and tools in order to prepare the "environment" (your home) for your child. In Montessori, especially during the toddler years, it's about the child "helping" the parent and learning practical life skills, including preparing snacks, arranging and watering flowers, pouring water, cleaning up spills, and sweeping. Toddlers love to help, and you'll find that you have a really happy toddler if you let them do the practical life stuff you do.
Kathryn O'Neill, a Montessori teacher in Atlanta, Georgia, says the perfect Montessori toys are realistic, require the child's active participation, use hands-on manipulation, demonstrate some sort of cause-and-effect relationship, are self-correcting, purposeful and goal-oriented, isolate a skill, and something a child can complete successfully on their own.
For example, "realistic toys" would be realistic representations of animals and vehicles, and "active participation and hands-on manipulation" toys would include opened-ended toys where the child physically handles the material. A "cause-and-effect relationship" toy would be dropping a ball in a hole and it rolling down a ramp, and "self-correcting" toys would be when puzzle pieces aren't fitting or threading beads through a hole. And finally, "goal-oriented" toys would have a clear end to an activity, and the child cleaning up after him or herself, according to O'Neill.
"Ideally, Montessori toys use real items when appropriate. Food is something that should always be real so that the children can experience the texture, smell, size, etc., of real food. Replicas of items should only be used when it isn't realistic to bring that item into the home (for instance, an elephant would not fit in your home so you should totally enjoy bringing an elephant figurine into the house).
"The best thing about figuring out an ideal Montessori toy is knowing that what makes it 'ideal' doesn't change with the child's age. As a child's abilities change, the toys will change. The goal is always to provide toys in the 'Zone of Proximal Development,' which basically means you want to offer toys that are 'just enough' of a challenge for the child. You don't want to provide an activity that is too easy (boring!) or too hard (discourages independent play)," O'Neill adds.
You'll find the toys and materials on this list to fit just perfectly into the Montessorian ideals of nurturing kids to be lifelong learners and to always be curious.
We only include products that have been independently selected by Romper's editorial team. However, we may receive a portion of sales if you purchase a product through a link in this article.
This article was originally published on