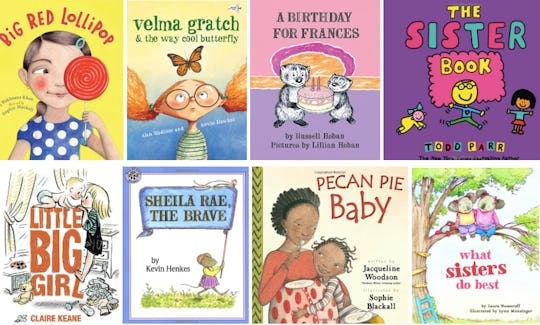 Amazon
17 Children's Books About Sisters That Celebrate Their Unique & Wonderful Bond
Sisters: They tease, torment, tattle, and tag after you. They "borrow" your stuff, try to ignore you at school, and compete with you for everything. They're also your staunchest supporter, secret-keeper, giver of good advice, and even your best friend. No wonder there are so many wonderful children's books about sisters: There's so much rich material to draw from, and so many young readers who can relate to it.
Many books in this genre cover the all-important topic of becoming a big sister, with all the anticipation, excitement and, yes, even the confusion and jealousy that goes along with the transition. Other titles celebrate the relationship itself; after all, siblings are our closest blood relatives, and we share experiences with sisters that can't be truly duplicated with anyone else. And let's not forget the books that honestly recall the misunderstandings, fights, and frustrations between sibs. Reading about the struggles of famous sisters like Beezus Quimby, Jo March, Frances the badger, Nancy Clancy, and Raina Telgemeier help children realize that their feelings are valid and that they're not the only ones who've ever dealt with a bossy big sister, a pesky younger one, or a twin trying to find her own identity.
These are just a few of the wide variety of kids' books about sisterhood. Bet there's at least one on this list that will become a "read it again!" favorite with the sister(s) in your household.