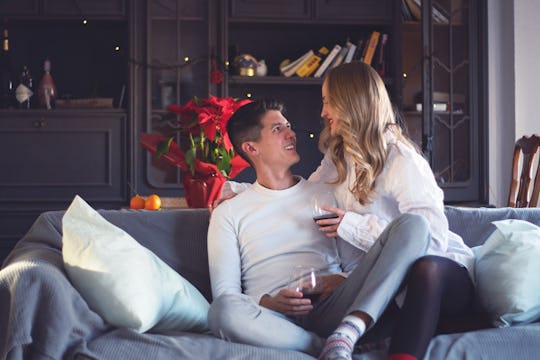 Viktorija Mikuckyte / EyeEm/EyeEm/Getty Images
17 Date Night Ideas At Home For When You're Tense & Tired Of Each Other
Remember date nights? Back when you could hire a babysitter and go sit at a restaurant for two hours with your spouse without being constantly interrupted by a persnickety 4-year-old with loads of dinosaur factoids to share? In addition to the loss of general socializing with friends and neighbors, the current pandemic has changed the way parents can spend time together one-on-one... just when couples really need to be getting along and staying on the same page. But with the right date night ideas at home, you can find ways to stay connected (beyond griping at each other about how slow the internet has been).
Oh sure, thanks to #stayhome you're around each other all day, but let's be honest: Folding laundry together while another episode of Paw Patrol plays in the background doesn't really scream romance. After a while, you might start to wonder... why even bother with romance right now? "Because it will make everyone feel better," Dr. Michael Aaron, Ph.D., Licensed Psychotherapist, Sexologist, and Certified Sex Therapist, tells Romper. But he admits it can be very tricky, especially when you add working full-time, homeschooling, and house management to the lists of jobs that might usurp making time for your partner.
"Romance requires balance," says Dr. Aaron. "Having enough of an absence to want to see someone again and time together to have that romantic time." But that can be difficult right now, especially for those co-habitating in a small space, say an apartment or studio. The key, says Dr. Aaron, is to create space away from your partner to allow for a desire for connection later in the day. For instance, he suggests working in separate rooms, putting on headphones or getting outside by yourself to create alone time. That way you won't feel like you've been in front of your partner all day when it's time to reconnect.
Equally important for moms and dads to realize is that guilt is the biggest killer of passion. And nothing comes with more guilt than being a parent. If you're spending your day beating yourself up for not being the best parent or not being the best employee, finding any fire for your partner is going to be tough.
"Imagine you're on a plane and they're telling you all the rules. 'If there's a change in cabin pressure put the mask on yourself first.' The idea is you need to be able to take care of yourself in order to take care of other people," says Dr. Aaron. Which means give yourself a break, and don't guilt-trip your partner either.
But his number one tip for keeping the love alive during the pandemic? "Remind yourself that romance doesn't click on a dime," he says. You must be intentional and cultivate the "lover role." That means reminding yourself of how you were when you first met when your role was simply lover — not spouse, not business partner, not parent, not household manager, just lover.
"I recommend you start with idea of preserving that lover role in spite of everything," says Dr. Aaron. That means cultivating a feeling of anticipation for time together. Tell your partner how hot they look in those pajamas and how you can't wait to make out with them after the kids go to bed. "There's power in keeping that dialogue going when there's some anticipation," he says, even if you have to work to find it in the drudgery. "Keeping that anticipation simmering in the background will do wonders for people."