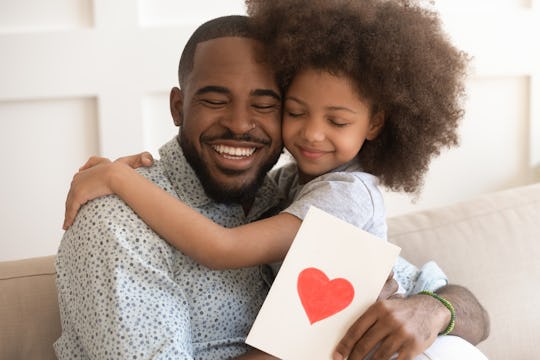 Shutterstock
17 Father's Day Quotes That'll Make Dad Cry
Whether you're planning on filling a sweet card with your own words for Father's Day, or planning on doing something creative with a special quote, I'm sure you're currently on the hunt for Father's Day quotes that'll make dad (and you) cry. Father's Day is here after all, so hopefully you've got that on your radar. I've got your back with some sweet words to say or write so you can ensure the dads in your life still have a wonderful Father's Day and feel incredibly loved and appreciated.
Are you fortunate enough to remember when your dad could scoop you up with ease, let you fly like Superman, caught you when you fell, kissed your boo-boos, cheered you on when you tackled challenges, and carried you to bed when you were all tuckered out? What about your relationship now that you're an adult and a parent? Gratefulness abounds, and you can convey that in your card.
Don't forget partners who are fathers on this special day, too. Whether it's a gift for your partner about how wonderful of a dad they are, or a gift from your kids that you happen to be ghostwriting, you'll need some beautiful words of appreciation, love, and adoration to share.
I know there's a lot going on right now with the world, but one of the perfect ways to get yourself into the dad appreciation mindset is to check out some of these touching and heart-warming quotes that will have you reaching for the Kleenex.