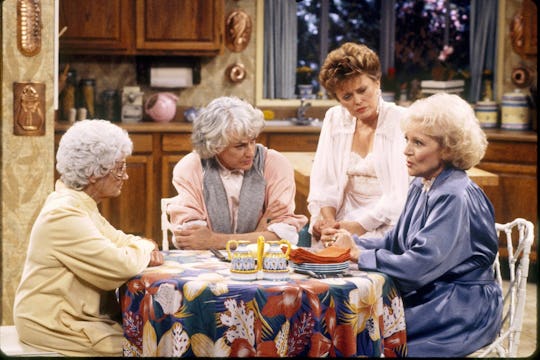 Touchstone Television
17 Important Parenting Lessons Only 'The Golden Girls' Can Teach You
There are some things you should know about me. I'm the loudest of five loud children and love being the center of attention. Every day, I think, "Today is the day I don't cry about something I see on the Internet!" and I am always disappointed, usually because I see a really cute picture of a piglet or something. I enjoy museums and reading. But perhaps the most significant thing you should know about me is that I. F*cking. Love. The. Golden. Girls.
This is one of those shows that I've watched for as long as I can remember. It's just always been on my television, and as I grew older, I appreciated it on deeper and deeper levels. I have legitimately had discussions about how the four leading ladies are some of the greatest performers of the latter half of the twentieth century. I've cried for weeks at the passing of each actress. I frequently utter the phrase, "I just don't understand how to live in a world where Bea Arthur is dead." (Betty White, you are never, ever, ever allowed to die.) I knew I was going to marry my husband when he bought me Season 1 on DVD our first Valentine's Day.
Some people have taken on a love of The Golden Girls with a kind of kitschy, hipster irony. No. There should be nothing ironic about one's love of this classic show. As far as three camera sitcoms go, I can think of none that surpass its longevity or mastery of its medium. So no. Shut up. Don't you dare joke about liking The Golden Girls. If you're going to say you're a fan, you'd better come correct with the proper insight and respect.
I take this seriously. You should, too.
The Golden Girls can teach us many important life lessons... including parenting lessons. (It is, after all, a show about four mothers.) Please allow me to enlighten you as to all these great senseis can teach us...