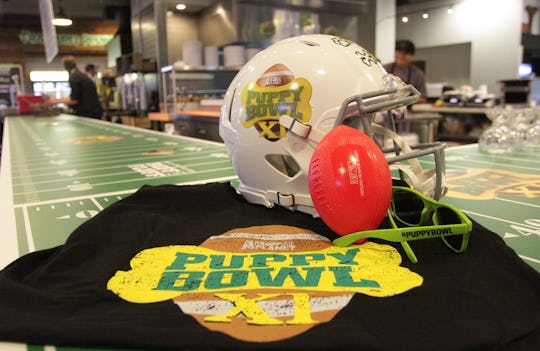 John Parra/Getty Images for Discovery.com
How To Adopt Puppy Bowl Puppies & Be Happy Forever, Because You Deserve This
Super Bowl Sunday is fast approaching! Which means Puppy Bowl Sunday is within reach! Which also means that you want to you know how to adopt Puppy Bowl puppies, because these adorably perfect fountains of life and love and endless slobber are way, way more important than Manning's passing yards or Newton's completion stats or Talib's or Davis' rushing yards. This year's show, according to Animal Planet, features pets from 44 different shelters and rescue organizations from all over the United States. The teams, #TeamRuff and #TeamFluff (why are these soooooo cute!), all feature adoptable pets that hail from destinations all over the country.
Animal Planet also announced that for the 2016 Bowl they'd be partnering with the Pro Football Hall of Fame to introduce viewers to the Puppy Bowl Hall of Fame. Its purpose? To honor "legacy players" throughout the Puppy Bowl and to help get older, "veteran" animals adopted. Animal Planet's Puppy Bowl airs at 3 p.m., just a few hours before the actual game, which means viewing won't be cut short by interceptions or touchdowns, and we'll all have plenty of time speculate over whether or not Jay Z will perform at halftime, joining Lord Beysus and Coldplay on stage. (Honestly, all I really care about is: will Blue Ivy be there?)
To make our lives easier, AnimalPlanet.com published a list of all the adoptable agencies and organization where you can adopt a Puppy Bowl puppy from, which leaves us all plenty of time to ogle over their cuteness and then pick the closest organization to us before the coin toss kicks off Super Bowl 50.
According to Entertainment Weekly, this year's matchup at Puppy Bowl will feature its own Deflategate scandal and drama (though nothing that can't be cleared up with a slobbery lick or two and an adorably oversized pair of floppy ears). Each of the puppies involved in the Puppy Bowl game come from 44 different rescue groups and shelters across 25 states in the United States and in Puerto Rico. Per the Animal Planet website, some of the participating shelters and organizations on this year's list include Mr. Bones & Company from New York, Green Dogs Unleashed from Virginia, Paws Chicago, Williamson County Animal Center in Tennessee, and the Arizona Humane Society, among many, many others. And because puppies just aren't enough, the Kitty Half-Time Show kittens are provided by the Brooklyn Bridge Animal Welfare Coalition, Inc. As usual, Meep The Bird (who has his own Twitter account, natch), will be tweeting live updates from the big game.
Basically, it doesn't matter if you're rooting for the Broncos or the Panthers to take home the Super Bowl 50 trophy and bragging rights for the next year, because we're all here for the most important thing: the puppies.