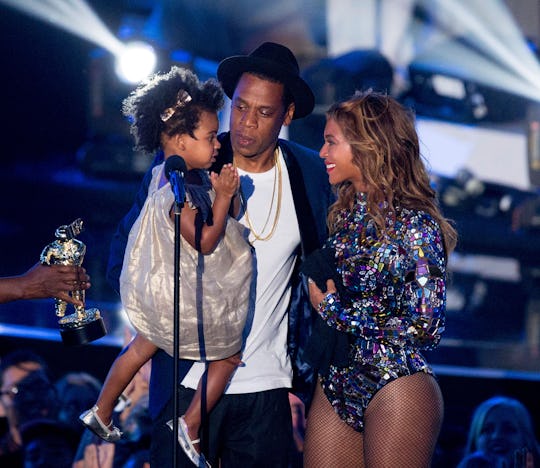 Mark Davis/Getty Images Entertainment
Will Blue Ivy Be At The Super Bowl? She Might Cheer On Her Flawless Mom
Mom is playing the halftime show. Dad is bound to be there to support mom. There are even rumors that Blue Ivy's parents, Jay-Z and Beyoncé, have another little one on the way. But what everyone is most eager to know is: Will Blue Ivy will be at Super Bowl 50? Beyoncé will be one of headliner Coldplay's special guests for the halftime set. And some of the two performers' recent collaborations have fans thinking a Blue Ivy appearance on game day might be a possibility.
Beyoncé can be heard on two tracks from Coldplay's latest album, A Head Full of Dreams, and daughter Blue Ivy was part of the choir that provided vocals throughout the album. But fans will just have to wait and see if the parental unit wants to brave the San Francisco Super Bowl crowds with a very, very popular toddler. In fact, Blue Ivy has already had an exciting start to her year with a fairy-themed, celebrity-packed birthday party to celebrate 4 years old. The party featured a giant birthday cake (of course), food and balloons, and an entertainer who made balloon animals — because, really, what kid doesn't love balloon animals?
Fans just can't wait to get another chance to oooh and aaah over Blue Ivy after she wowed and melted hearts when she made an appearance at the 2014 Video Music Awards and was featured in Beyoncé's behind-the-scenes video of her VMA performance.
Interestingly, fans have also been curious about a rumor floating around the internet that speaks to the possibility that Blue Ivy might be getting a little brother or sister soon, and that the news might be officially announced at the upcoming Super Bowl game. But those hoping for baby number two might need to wait a bit longer, as a source close to the counple made clear to The Washington Post in March 2015 they were in no rush to have any more kids:
So, Jay and Bey are not rushing into things because they feel like they are still young and can put it off for a bit! They had been trying but settled down, because they are so busy with their careers and parenting Blue as it is.
Those following the power couple might have to wait until Super Bowl Sunday to know for sure whether Blue Ivy will make an appearance for the adoring public, and per usual, the pair's fans are arguing the chances of their expecting their second child — but I think everyone can agree on one thing: Everyone wishes they could vacation like this threesome.