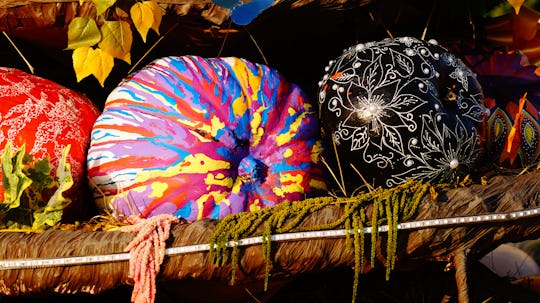 Shutterstock
These 17 No-Carve Pumpkin Ideas Mean No Slimy Pumpkin Guts For You This Halloween
Fortunately for those of us who'd rather avoid scooping slimy pumpkin guts out with our bare hands, no-carve pumpkin ideas have taken over the internet. If you don't think you have the artistic chops to paint an elaborate or spooky scene, don't sweat it; some of these ideas are as easy as dipping the stem in glitter or wrapping a snipped balloon around your little gourd.
Not only do no-carve pumpkin ideas mean no dealing with gross mounds of slime, but instead of your jack-o-lantern slowly rotting on your front stoop, your loveable pumpkin may just make it all the way to Thanksgiving. (Plus, you don't have to worry about you or your kids slicing their fingers during the creative process.) Last year I wanted to make a simple pumpkin (I painted one as Bert and one as Ernie) but I was bummed to miss out on the roasted pumpkin seeds which I think are worth the mess of carving. Instead, I did things unconventionally (things got a little wild in my house) and I cut open my painted pumpkin a few weeks after Halloween and roasted the seeds for Thanksgiving.
For a decorating experience the whole family can get in on, read on for 17 of the most gourd-eous no-carve pumpkins.