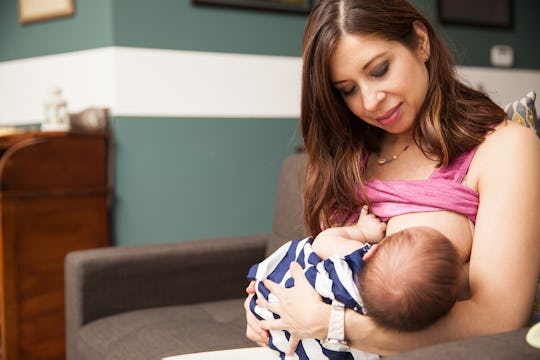 AntonioDiaz/Fotolia
17 Real Breastfeeding Questions On Allergies, Spit Up, & More, Answered By An Expert
Breastfeeding can be a hard, isolating, and emotional journey, which is why it's so important to have support. That's why Romper launched a Facebook breastfeeding community, Breastfeeding TBH — to help make feeding another human being with your own body a little easier. Every day readers ask questions because, let's face it, breastfeeding is complicated, and each week in Rack Facts, Romper speaks with a lactation consultant to answer as many of those questions as possible. After all, everyone can use a little expert help, especially when it comes to feeding your kid.
"Breastfeeding is the most natural thing in the world," society says. Sure. Unless you're traveling. Or sick as a dog. Or using a nipple shield to get your baby to latch. Then breastfeeding becomes infinitely more complicated. You know it's worth it for your baby, but if I hear one more person tell me that breastfeeding is way easier than bottle feeding, I might just snap.
Both have their pros and cons, but because the nourishment you're giving your baby is coming from your actual body, it's a little harder to treat it with nonchalance and convince yourself that everything will be OK. When you're not feeling well, when your diet is affecting your baby, and when your allergic reaction makes you worried for your little one, breastfeeding becomes hard.
But that's why the experts are there. I talked to International Board Certified Lactation Consultant Nadine Fournier of KW Breastfeeding to get her advice and expertise so you can make breastfeeding feel as natural as possible, no matter what your circumstances are.