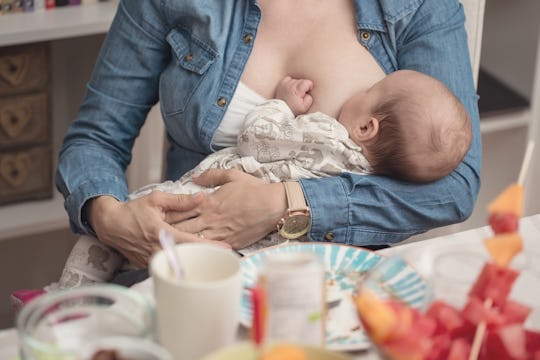 Deymos.HR/Fotolia
17 Real Breastfeeding Questions On Implants, Dental Work & More, Answered By Experts
Breastfeeding can be a hard, isolating, and emotional journey, which is why it's so important to have support. That's why Romper launched a Facebook breastfeeding community, Breastfeeding TBH — to help make feeding another human being with your own body a little easier. Every day readers ask questions because, let's face it, breastfeeding is complicated, and each week in Rack Facts, Romper speaks with a lactation consultant to answer as many of those questions as possible. After all, everyone can use a little expert help, especially when it comes to feeding your kid.
Regardless of how excited you are to breastfeed or how satisfied you are with your decision to nurse your babe, it can still be incredibly tough to walk that road without any support. So many breastfeeding moms face opposition from their bosses, their co-workers, their doctors, and even their families. It's disheartening, especially when you think about how important support is to breastfeeding success. A study found that the number one reason moms gave up breastfeeding was because they lacked the support they needed after delivery. If breast is best, then why aren't more people stepping up for the breastfeeding moms of the world?
I spoke with Danielle Downs Spradlin, a certified lactation counselor accredited by the Academy of Lactation Policy and Practice and owner of Oasis Lactation Services, and Pamela Howard and Justine Anderson, lactation consultants at a pediatrician's office to answer all of your breastfeeding questions. Whether you have a huge support system or need someone to back you up, these three experts can give you the answers you're looking for to continue breastfeeding and to feel confident and empowered while doing so.