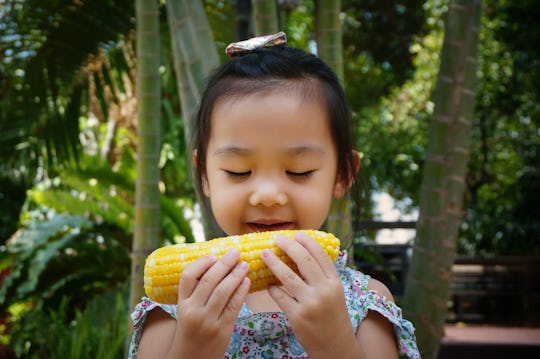 Shutterstock
17 Recipes For Kids Who Only Eat Yellow (That Aren't Corn On The Cob)
Most people think of picky eaters as those who won't eat veggies or only like chicken fingers. But there are a myriad of unique eating habits that can make it tough to ensure your child is getting all their nutrition, like a color fixation. Luckily, these recipes for kids who only eat yellow can help your golden boy (or girl).
Aside from the fact that thinking of meals comprised of only one color can be a huge creativity challenge, serving your kid solely yellow (or any other color for that matter) dishes might mean they aren't getting all their nutrients. For instance, you might end up giving them a lot of mac and cheese, bananas, and corn, which means they miss out on other foods that can help them grow. (And I'm guessing your adult palette will get tired of that routine rather quickly.) On the bright side, there are recipes that can help you honor their wishes without shortchanging their health, as well as prevent you from getting bored eating the same meals over and over again.
So read on for 17 recipes your yellow-lover wreill love, ranging from desserts, breakfast dishes, and appetizers. They offer something for everyone. And check out Romper's Picky Eater's issue for even more food advice.