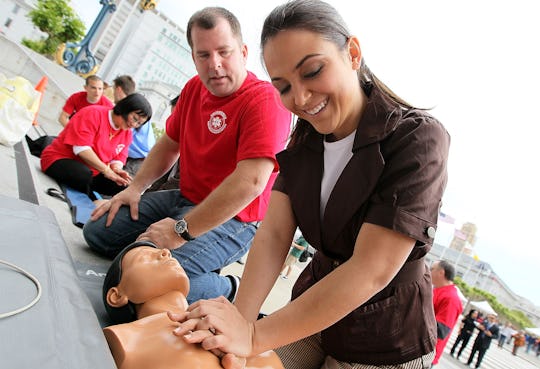 Justin Sullivan/Getty Images News/Getty Images
From 'Baby Shark' To Beyoncé, These 17 Songs Are Perfect For Teaching CPR
My favorite episode of The Office is "Stress Relief," where Dwight decides to test everyone's safety skills via a too-realistic fire drill. This gives poor Stanley a heart attack and Michael has someone come in to teach the employees CPR on a dummy. Before Dwight cuts off the dummy's face and wears it as a mask (classic Dwight), the instructor demonstrates how to perform CPR to "Stayin' Alive." At 100 bpm, "Stayin' Alive" keeps perfect time for CPR, but the Bee Gees classic isn't the only option. "Baby Shark"and other songs perfect for teaching CPR can make saving someone's life a whole lot easier, as strange as that might sound.
As Lora Brightwell Ulmer, an ICU nurse, explains, "100 BPM is the optimal pace because it's fast but still allows enough time for the provider to give a deep chest compression. As you compress, the blood is pumped out of the heart and as you come back up, blood enters the heart." And here you thought "Baby Shark" had no other value than the ability to annoy the crap out of you and stay stuck in your head for eternity.
Turns out, a ton of other popular songs (including '90s songs, swoon) are ideal for teaching CPR, including "Dancing Queen" by ABBA, "Rumour Has It" by Adele, "Just Dance" by Lady Gaga, "Work It" by Missy Elliott, "Say You'll Be There" by the Spice Girls, "MMMBop" by Hanson, "Fast Car" by Tracy Chapman, "Fly" by Sugar Ray, and even "Quit Playing Games (With My Heart)" by The Backstreet Boys. Seems like most '90s songs were 100 BPM, doesn't it? So be sure to throw at least one of these songs (or the songs below) onto your iPod, you know, in case you ever need to save someone's life or teach someone else how to save a life performing CPR.