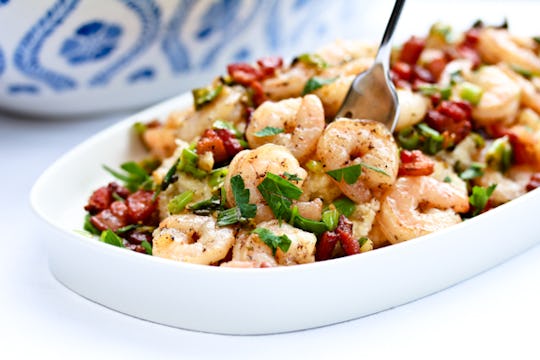 A Spicy Perspective
17 Super Bowl Recipes For Carolina Panthers' Fans To Devour During The Game
For football fans, Super Bowl 50 is already a big events. But for Cam Newton fans, Super Bowl 50 is a time for celebration. It's a time to practice your dabbing touchdown moves like Cam, invite over your friends, and start cooking some Super Bowl party recipes for Carolina Panthers.
Chances are, you've already dabbled a little bit in celebrating the Panthers this year. They had one hell of a season and lost only one game (to my Atlanta Falcons, I'll thank you) on their road to Super Bowl 50. I know quite a few Panthers fans and to say they are excited about the big game is a total understatement. But while you're prepping that playlist and hanging up all of the blue and white streamers you can find, you need to get your Super Bowl party menu on lockdown.
To properly celebrate the Carolina Panthers, your menu can focus on two things — any and all light blue dishes, and cuisine from the South, i.e. the best region of America. My boyfriend's favorite place in the world is Charlotte and he goes on and on about the food. I may not be from either of the Carolinas, but I can also agree that there's nothing like some good, southern cooking from the two states. And while it pains my Atlanta-bred heart to say this, you can thank North Carolina for bringing you Pepsi, too.
But you don't need to travel to taste the Carolinas. With these 17 Super Bowl recipes, you can eat your way to a victory, regardless of how the Panthers do at the game. Just keep in mind, it might be a little hard to dab like Cam once you're full.