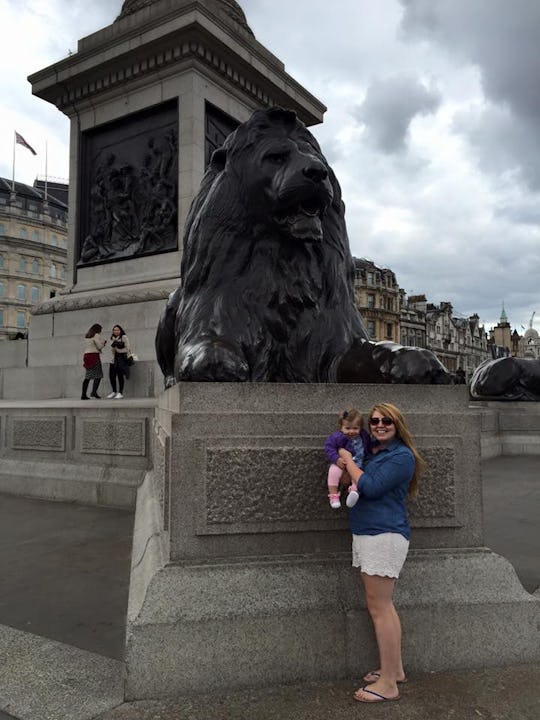 Courtesy of Samantha Darby
17 Things You Need To Know About Traveling Internationally With A Baby
Traveling internationally is always a feat. But when you're doing it with a baby, your anxiety may be through the roof. The thing to keep in mind is that you want your baby to enhance the experience. Will it be easy? Not necessarily. But will it be worth it? Absolutely. And almost everything that's worth it is also hard AF. There's plenty of ways to prepare though and with a list of things you need to know about traveling internationally with a baby, you can relieve some of your worries while still having an amazing travel experience.
When my daughter was 10 months old, I took her to England. I panicked about the trip for a long time, especially because I was traveling alone. But it couldn't have been better. I did the research beforehand, I talked to my airline, I spoke with my daughter's pediatrician, and I looked up the rules on food and bottles on the plane — I prepared. Because I wasn't going into the experience blindly, I knew what to expect and I also knew what to do in every situation I encountered.
I was also incredibly excited to experience my favorite place in the world with her. And not to sound all hokey, but that positive energy worked. She was a dream baby.
If you're worried about a plane ride, I get it. But I found that more people were willing to smile at my baby, play peek-a-boo with her over the seats, and ask me if I needed help than they were to scowl at her or complain if she made any sound.
Basically? It's hard, but it's probably not as hard as you're thinking. Just remember that it's worth it and then keep these 17 things you need to know about traveling internationally with a baby in mind.