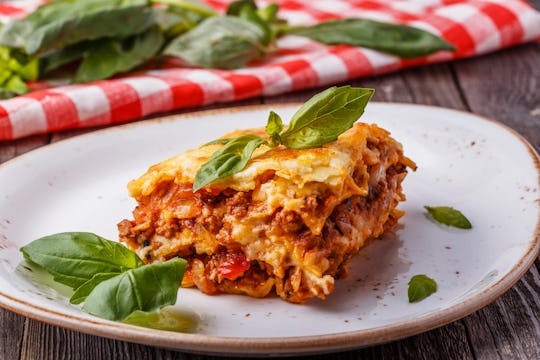 Tatiana Bralnina/Shutterstock
18 Christmas Eve Crock-Pot Recipes You Can Set & Forget — Until Dinnertime
In exactly two weeks, Christmas break begins, though it won't exactly be a break for you. Your house that is normally calm between the hours of 8 a.m. and 3 p.m. will become a play land for children hopped up on Christmas treats and anticipation for Santa (aka walking terrors). Plus, any second you don't have to devote to keeping them happy will go to wrapping presents, so to make things a bit less stressful, here are 17 Christmas Eve recipes to make in your Crock-Pot.
The Crock-Pot will definitely make your Christmas Eve dinner simpler, but it can also add some bonus festivity to the night. Most holiday food traditions are for Christmas day rather than Christmas Eve, though there are a few that are just for December 24 you can try. There's an Italian Catholic tradition called the Feast of the Seven Fishes, where seven different kinds of fish are served for dinner, according to Bon Appetit. (Even if you're not Catholic or Italian, enjoying some fish before the heavy meats traditionally served on Christmas Eve sounds refreshing.) Soups and stews are also popular for the day before Christmas in many cultures, all of which are super simple to prepare in your Crock-Pot. Plus, using a slow cooker for your "night before Christmas" meal means the oven and stove are free so you can get as much cooking for the next day done as possible. It sounds like slow cookers were basically designed with Christmas Eve in mind to me.
These are the kind of Crock-Pot recipes you could find yourself coming back to every holiday season. And by the way... if you happen to be a two-pot household (as in, you have a Crock-Pot and an Instant Pot), check out these easy Christmas Eve Instant Pot recipes. You'll have all the inspo you need for a truly impressive (and especially convenient) holiday spread.
This article was originally published on