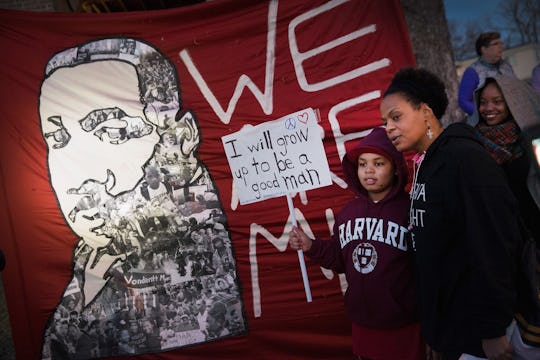 Scott Olson/Getty Images News/Getty Images
These Inspiring Martin Luther King Jr. Quotes Will Make You Feel Hopeful Again
If you're getting a day off from work or school on Monday thanks to Martin Luther King, Jr. Day, you might want to take a moment to think about the true meaning behind the holiday. The third Monday of every January honors one of the most important leaders in American history. As you read through some of these most inspiring MLK Jr. quotes, you'll understand why he's such an iconic figure — and why his words are just as relevant today as they were decades ago.
Dr. King was one of the most important voices of the civil rights era, despite his life being cut so tragically short. He helped lead the Montgomery bus boycott in 1955, which followed the arrest of Rosa Parks after she refused to give up her seat on an Alabama bus, according to Brittanica.com. Just a few years later, he was elected president of the Southern Christian Leadership Conference (SCLC), an organization which played a prominent leadership role in the civil rights movement, according to the King Center. And in 1963, he helped organize the March on Washington to demand equality for African-Americans.
Though King's actions and accomplishments earned him a prominent place in American history, his pen has had just as big of an impact. From his famous "I have a dream" speech to his landmark "Letter from the Birmingham Jail," his words continue to uplift and inspire. These 18 quotes make it easy to see why — King promotes the best virtues that humans possess: kindness, understanding, forgiveness, hope, and most important of all, love.