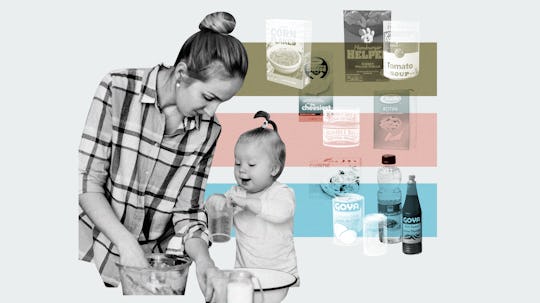 Stocksy & Getty
These Pantry Staple Recipes Are So Simple *&* Your Kid Will Actually Eat Them
Figuring out what to cook for dinner that your kids won't turn their nose up at on a normal night can be a struggle. Throw a global crisis into the mix and your mealtime stress level likely just multiplied by 10. These 18 recipes you can make from pantry staples are ones your kids will actually eat, and might just help get you through those nights when you'd rather order a pizza.
But what can you make with all of those canned vegetables, dry beans, and pasta you stocked up on during your last trip? Turns out, you actually can make several decent meals that your kids will enjoy just as much as their beloved dino-shaped nuggets. (Probably. I make no promises. But they will at least eat them, and that's something.)
Some of these recipes are from food blogs and some were submitted by parents who can attest to their kids successful plate-clearing when served these meals. Most take minimal kitchen skills to pull off and they use normal, standard ingredients you probably already have on hand. (No specialty jars of sundried tomatoes here!) There's a lot of can-opening, pasta-boiling, and stirring involved, but to make a meal out of pantry staples that your kids will actually eat, it's definitely worth the effort.