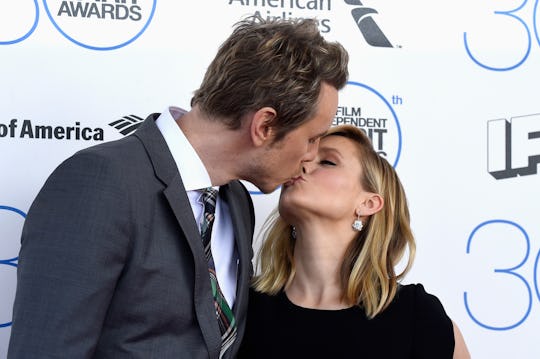 Frazer Harrison/Getty Images Entertainment/Getty Images
19 Kristen Bell & Dax Shepard Tweets That Will Make Any Parent LOL
Kristen Bell and Dax Shepard are quickly emerging as a fierce and fearless voice on behalf of tired and slightly loopy parents everywhere. Their social media accounts are pure parenting gold. So, to honor their contributions to the art of exhausted parent comedy, here are the best Kristen Bell and Dax Shepard tweets guaranteed to make any parent LOL.
The two are parents to daughters Lincoln, 3, and Delta, who is just 17 months. And as the two actors juggle their crazy schedules and their little kids, they aren't afraid to share their struggles, with everything from battling the flu to family travels. The high-profile couple is such a model of family bliss, they star as themselves in a series of Samsung commercials that show the pair unloading groceries into a pricey smart refrigerator. And somehow it's totally adorable. When it comes to the All-American family, the Bell-Shepard brood is the go-to model.
Both actors certainly have their serious sides, though, speaking out — shouting even — about issues like coping with depression, Shepard's own experience with molestation, and their fight to stop the paparazzi's pursuit of Hollywood celebrity kids. Actually, they're kind of the coolest parents around. They make Africa vacation videos that make the rest of us feel totally lame about our own relationship vibes, but then Bell has come out and said their marriage isn't all "utter bliss."
They've even opened up about how they discipline their two daughters, which is generally pretty tricky territory to be sure, but again, this couple seems to navigate every parenting land mine with a combination of lightness and levity. But beyond all the interviews, sound bites, and promotional tours, this couple's social media accounts reflect two highly-talented, devoted people who are committed to their family and each other. Here are Bell and Shepard's greatest parenting tweets.
Do It "Like A Mother"
We're Pretty Cool With Carseats Now, Right?
Rack Flashback
They Get Really Into Game of Thrones
Where's The Paid Leave?
Bow Down To Boris
Africa #VacationGoals
Kids Are Hilarious
On Their Relationship
On Baby Talk
Because Grandparents Are Truly Wise
They Refuse To Be Silent On The Vaccine Debate
On How You Know Love Is Real
No One Said Parenting Was Always Pretty
Again, Kids Are Messy
Traveling With Kids Should Be Considered An Extreme Sport
On The Effects of Kid-Proofing A House
Parenting Is A Series Of Battles
You Know You're Having A Good Day When...
But Bell and Shepard never let the craziness of parenting get them down. Their tweets make clear that they try not to take any moment too seriously, which is what helps make them amazing parents.