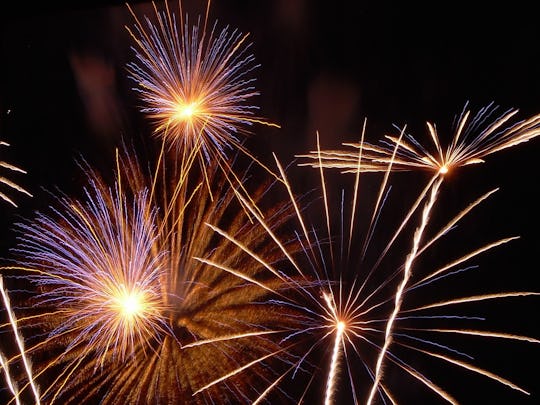 19 Moms Share What Really Happened On Their First New Year's Eve With A Baby
Your usual plans tend to change when you're a new mom on New Year's Eve. While before you might have been shopping for a sparkly new outfit or looking for the right party (parties?) to attend, stumbling around town in heels, now the last day of your year probably involves cozy pajamas and a Netflix marathon. Or just straight sleep. Sweet, beautiful sleep. Then again, some moms opt to find themselves a babysitter for the night and paint the town red regardless. And others still prefer to have a shindig at their home, inviting friends and family to drink champagne, eat grapes, and throw a bucket of water out the door at midnight (all different New Year's Eve customs you may or may not have heard of). Basically, New Year's Eve for new moms is as varied as New Year's Eve for anyone else (I know, I'll pause while you collect yourself after the shocking realization that moms are actually just people).
December 31, 2014 was the first time I got to spend New Year's Eve with my son, who was then just 10 months old. We'd just finished driving up to my grandmother-in-law's house and by the time we got there, everyone was already asleep, including our son. My husband and I put the baby down for the night in his crib, and proceeded to pop open a bottle of Lamarca prosecco and toasted in the New Year while channel surfing between the usual major broadcast stations. It was cozy and quiet but ours to share. I don't anticipate doing anything much different this year, except we'll likely be staying home instead. I spoke with a few other moms who shared how their first New Year's as mamas went:
"My husband and family had to work, so I was alone. A friend came by and brought me some sparkling grape juice and my mom ordered me my favorite pizza and soda. So despite some baby blues, I had a great time enjoying some of my favorite things." - Kristen B
"I spent it at my brother's house. He had a small party (mostly family and some close friends) and we spent the night. I prefer to spend big holidays at home, but since our family is so big we alternate homes. I personally wouldn't want to spend a big holiday without our daughter!" - Pilar V.
We brought our kid to a friend's party with us. He wasn't on any sort of normal schedule anyway, so it really didn't matter.
- Jaime K.
"My husband and I stayed home and watched the fireworks from our backyard while our son passed out at like 10 p.m." - Kristin
I was single my first NYE as a mom, so we stayed up on the couch watching Seacrest until midnight when we opened the front and back doors to let the old year out and the new year in. My girl was 5 months old, so I remember being super emotional and talking to her all night about what I hoped 2015 would have in store for us.
- Samantha
"Every year since we have had kids, I have rung in the new year snuggling next to one of my sleeping children. I thought I would feel sad about ringing in the new year in such a toned-down fashion, but year after year, I wouldn't have it any other way." - Gemma
"We brought the baby and went to my sister in law's, who also had 2 kids." - Sarah T.
"I took my kiddo to a friends party! We loved it and he was fine with it. Slept through most of it. He was only 3 months old." - Alejandra N.
"Every single NYE before my son was terrible. We're talking driving in a blizzard at midnight, stuck on a packed subway with the lights off at midnight, trying to help my sister fend off the advances of my husband's boss at midnight. Now we stay home and invite friends with no kids (or babysitters) to come over for drinks and snacks, and it's great. Having a kid made me stop hating the dumbest holiday on the calendar." - Jenn R.
"I worked an overnight!" - Britni
Not sure if being pregnant counts, but I was waiting to be induced on NYE. Gave birth 1-2-2004. My first NYE after he was born, he would have been almost a year old and I'm pretty sure I stayed home with him and watched the Times Square celebration from home while he slept.
- Cassia
"My shift ended at midnight, so I drove home. Can't remember if the hubby got the kid to bed before I got home or not." - Natalie
"My oldest was in the NICU over the holidays and I was living 2.5 hours away from the hospital then. I was 25. I spent NYE at home instead of driving all the way to see him because I was terrified of driving around on a party holiday with potentially drunk drivers. I spent the whole night regretting that decision. With my youngest, we stayed home and cuddled and it was amazing. I was 36." - Celeste
"My son is a December baby. I totally passed out that first New Year's Eve. Didn't even make it till midnight!" - Victoria
I had just brought my son home from the hospital the day before. He was born the day after Christmas. We stayed in, watched the ball drop, and took a midnight picture of our new family unit.
- Nikki
"We didn't get a sitter. We celebrated at home with my in-laws and neighbors. It was fun! There's a pretty funny picture of my husband and I "poppin' bottles"...He's holding an empty bottle of champagne and I'm holding an empty baby bottle. Our son was 9 months old at the time so he fell asleep around 8, woke up once for a quick feeding, and then slept the rest of the night. So we had it pretty good last year." - Kristina
"Our first year as parents (and honestly, probably every year since) we've passed out before midnight watching Netflix. With a two month old it didn't seem practical to go out since we'd be up all night as it was." - Olivia Y.
"We were in South Dakota visiting family during New Year's for my first NYE as a mom. We had to split the holidays (my mother and mom's side is in SD, my partner's family is in Wisconsin) so we had a Christmas New Year's. After the festivities, I (thanks to my mother and my partner) was talked into leaving my then four-month-old with my grandparents so we could go to a dive bar. I was nervous and texted my grandmother every few minutes and couldn't get out of my own head enough to enjoy the evening. My partner and I ended up leaving the bar early and rang in the new year in my grandparent's basement. I held my baby in one arm, a beer in the other hand and kissed my partner as we watched the ball drop in Times Square and on TV. It was perfect." - Danielle
Images: Sweetaholic/Pixabay; Giphy(6)