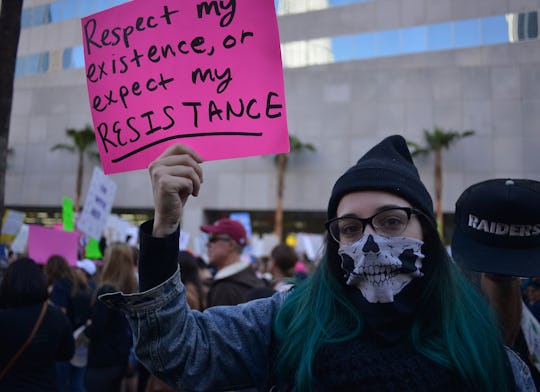 Chelsea Guglielmino/Getty Images News/Getty Images
19 #Resistance Quotes To Help You Stay Strong
International Women's Day has been important since it's inception in the early 1900s, but this year, it seems even more so. With women's marches taking over the country and a misogynistic President of the United States, there's a huge need for some resistance quotes for International Women's Day.
According to the Oxford Dictionary, there are a few different definitions for the word resistance, but my favorite is the first one: "the refusal to accept or comply with something." Whether it's accepting the current administration's policies on women and their rights, complying with sexist co-workers and workplace's inability to give women a fair and equal wage, or accepting that the world is often a misogynistic place, it's a woman's duty to resist.
But you're not the first woman to joint he resistance. In fact, women resisting has been happening for a very long time. It's unbelievable that so much work still has to be done, but you can continue plowing the path that the women before you started with these 19 #resistance quotes for International Women's Day. It's not enough just to celebrate women; you have to remember how far women have come and how far you have to go. With a little determination, sass, and a whole lot of resistance, you can make it happen.