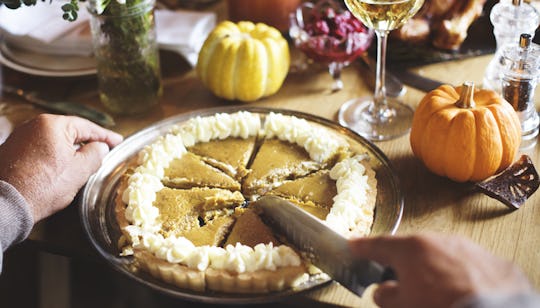 RawPixel/Shutterstock
19 Decadent Thanksgiving Desserts To Make In Your Crock-Pot
I love a sprawling smorgasbord of sweets to round out the Turkey Day feast, although I'm the first to admit that it can be hard to get even one dessert made when there's a big old bird occupying the oven. That's why these Thanksgiving Crock-Pot desserts can make putting together multi-dish meal easier. When the kitchen is in chaos, it's nice knowing that dessert is taken care, thanks to the slow cooker.
If you're the one hosting Thanksgiving, this "relaxing" day of togetherness can actually feel pretty darn stressful. Even for someone who knows their way around the kitchen, it can be a serious challenge trying to get the mains, the sides, and eventually the desserts, all done at the appropriate times. But it can be done with the some planning and the help of some small appliances like slow cookers and pressure cookers. Let the little countertop beasts take care of the sweets, and you'll have one less thing to sweat over on T-Day.
All of the desserts below are total crowdpleasers and since they can be made in a Crock-Pot, they're hostess-friendly too. From pumpkin dump cake to hot fudge turtle brownies, these Crock-Pot desserts prove that sweets reign supreme on Thanksgiving.