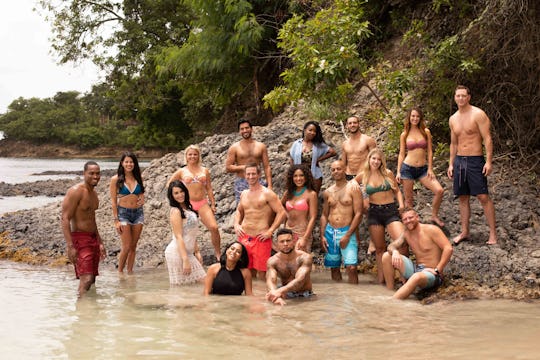 Rose Marie Cromwell/Lifetime
According To One Cast Member 'MAFS: Honeymoon Island' Was *All* Dramatic
Something magical happens when you plop dozens of attractive single people in an exotic locale and encourage them to fall in love while filming them for a TV show. Which is why I was thrilled to hear about the Married at First Sight spinoff: Married at First Sight: Honeymoon Island. And I was even more excited at the opportunity to talk to Brandin Brosh and Jona Bienko, two cast-members of Honeymoon Island who talked drama, romance, and marriage. While they didn't provide me with any specific spoilers, they were good enough to share some of their fondest memories from the experience. As well as encourage everyone to watch all the drama go down when the show premieres. Yeah, I am so here for this.
If you are unfamiliar with the whole process behind Married at First Sight, let me break it down for you. A team of experts pairs applicants with a compatible match who they will then marry sight unseen — they don't even know their future spouses' first names. But not everyone makes it past the screening process. Enter Honeymoon Island, where singles who were not matched on the show, or whose matches didn't work out, have another opportunity to fall in love under the helpfully guiding hands of the show's relationship experts, Paster Calvin Roberson and Dr. Jessica Griffin.
"The idea of marrying a total stranger is wild to me," Brandin admits, adding, "However, the experts, Dr. Jessica and Pastor Cal, used the science behind MAFS and applied it to Honeymoon Island, which is what was so appealing to me." When asked why she wanted to be married, Brandin explains, "Marriage, to me, is just a bonus to finding your soulmate," adding, "I want that perfectly imperfect relationship. I want to love and be loved in return." Jona says, "I want to be married because I've been holding this overwhelming love within me and it's time to find the one to share that with."
But of course, even when conditions for romance are *this* perfect, things go awry. When asked about the most dramatic moments on the show, Jona jokes, "Are you kidding me? It's a show on an island with a group of strangers to find the love of your life in a matter of weeks. It was all dramatic." Oh, excellent.
He did not, however, fall in love at first sight, though he adds that everyone was successful and impressive in their own right. As for the most romantic moment, well here is where Jona gets a little more specific.
I was on the dance floor with one of the little kids that were staying at the resort, and the girl I was feeling a connection with came out and joined us. When the song ended the kid went back to her parents and sure enough the dance floor cleared. The next song was a change of pace from what had been playing… a slower pace. It was John Legend — "All of Me." We had our first dance together. In that moment something changed and we were in our own world. My hair is standing up on my arms just thinking about it. That was the moment and it was not lacking one bit in romance.
Say it with me folks: Awwww!
Anybody else excited for this, yet? As for how the contestants feel after their time on the Island, Brandin at least is leaving with positive feelings. "At the end of the day, I have zero regrets and I can't wait to share my experience with everyone. I hope that after watching the show, people's opinions will change because every bit of what you see is real," she says.
As for whether she's now a married lady? Well, for that you'll just have to wait and see.