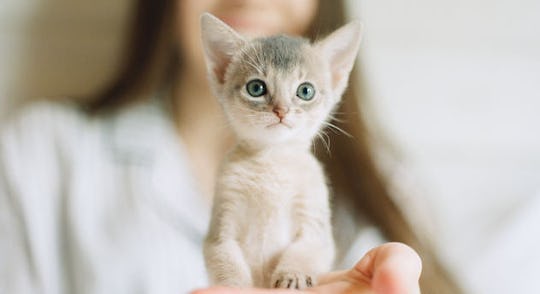 Duet Postscriptum/Stocksy
20 Aries Cat Names For Your Kitty With A Warrior Within
A cool cat needs an equally cool name, but how do you even begin to go about narrowing it down from the enormous number of options out there? If you're all about checking your horoscope and looking to the stars for guidance in life, you could turn to the zodiac for name inspiration, too. Kittens born between the end of March and mid-to-late April are Aries, and there are so many cute Aries cat names to choose from.
The exact dates for Aries are from March 21 to April 19, and no matter how sweet and cute your Aries cat may be, if their birthday falls within this window, Tarot.com pointed out that they've probably got an aggressive, primal side that loves to hunt. Combine that with the fact that Aries is ruled by Mars (the planted named for the Roman God of War), and you've probably got a furry little warrior on your hands. But don't worry, they've definitely got a softer side, too. Cat Time noted that Aries cats can also be plenty playful and super smart, which sounds like a pretty amazing combination to me.
Here are 20 name options that will showcase your little Aries furball's personality perfectly.