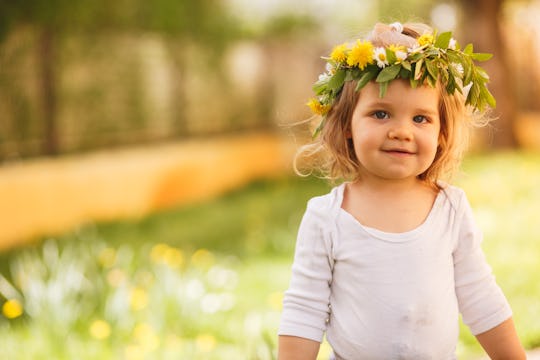 fotostorm/E+/Getty Images
These 20 Unisex Baby Names Are Inspired By Summer & Happy Vibes
Are you planning to welcome a new bebe into the world come July? Or perhaps you're newly pregnant, and want your wintertime wee one to bear a name that evokes the wide blue skies of a June afternoon. Either way, I've rounded up 20 bright and breezy unisex baby names inspired by summer and its sunny, carefree days.
It's funny to think of baby names having a seasonal vibe, but so many of them do. I mean if you name your child Autumn or April, there's a pretty obvious connection there. And according to Slate, there is evidence that shows that certain names spike depending on what month the child is born. (Nicholas and Carol rise in popularity in December, while there's a slew of Patricks in March.)
I personally really dig summery baby names, as I like the chill, relaxed feelings they call to mind. The names I've selected below all highlight the positives of summer, and in no way address some of the less enjoyable aspects of the season. You will note there is no mention of naming your child "Mosquito," "Bra Sweat," or "Aloe Vera." Though I suppose you could go that route if you're looking for something more original? And if you don't mind raising a child called Skeeter.