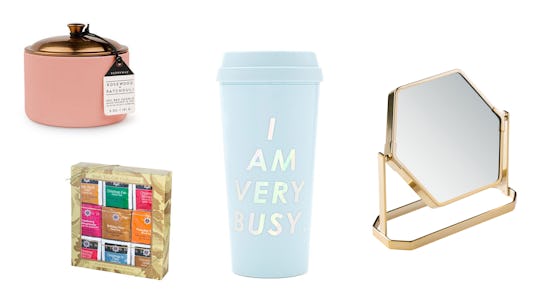 Paddywax, Stash Tea, Ban.do, Target
20 Cheap Holiday Gifts For Mom That She Will Totally *Love*
It's no secret that holiday shopping can be tough on the wallet, especially when all you want to do is gift your mom the world. At the very least, she probably deserves an island or two, and maybe even an ocean named in her honor. But when you've been pinching pennies all year, this isn't exactly an option. The next move? Brainstorm cheap holiday gifts for mom that are affordable yet meaningful, because you can't put a price tag on thoughtfulness.
The key to thinking of an awesome yet inexpensive gift idea is to look at her lifestyle. What does she use everyday? What are her daily habits? Is there something that would make her life easier? Ask yourself these questions, and look into practical, simple items.
This technique even works for the moms who have everything. You can buy consumables, like tea or chocolate. Oh, and don't forget the power of cards and notes. Include thoughtful sayings, quotes, and inside jokes instead of just writing "For Mom" on a gift tag and calling it a day. Better yet, if you're crafty, whip up a DIY holiday card. That effort will not go unnoticed.
At the end of the day, remember that your presence is the best, well, present. Lend mom a hand if she's going crazy trying to prep dinner or wrap gifts. Catch up, make small talk, and show her you care. In her eyes, it'll be the perfect gift.