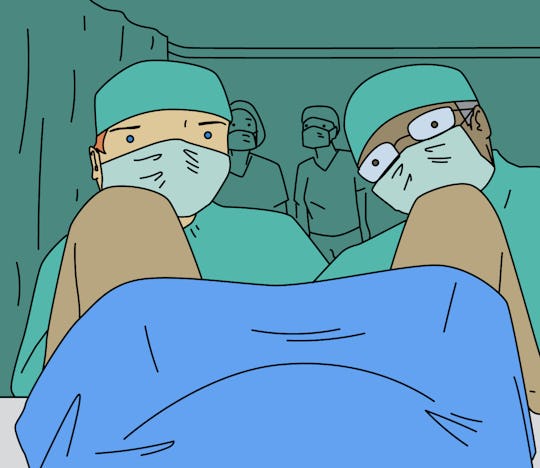 Allison Gore/Romper
20 Moms Reveal The One Thing They Wish They'd Known Before Giving Birth
You can ready every pregnancy book known to man, every baby book that has ever been penned, but it's still pretty impossible to completely prepare yourself for labor and delivery. You can write a birth plan and be as meticulous and organized as you've ever been before, but until you're in the middle of a contraction and your baby is crowning (or being pulled out of an incision in your abdomen), it's futile to assume you know exactly what you're in for.
It's frustrating, to be sure. You can be diligent and do your research, but child birth, and everything it entails, is different for every woman, which makes even the most universal experience difficult to completely describe to someone who is about to go through it. When you bring life into the world, time and emotions somehow transcend language, so when you ask a woman to share her birth story she can be as descriptive as humanly possible, and still fail to prepare another woman for her unique labor and delivery.
Not to mention that anything — and I mean anything — can happen. Because every woman's body is different (and thus, responds to pregnancy, labor and delivery differently) it is impossible to know exactly how someone is going to respond to something as miraculous and difficult getting a baby from the inside to the outside. We can prepare ourselves as best we can (something I highly recommend) but until that moment arrives, we can never completely know what we're about to feel, or how we're about to emotionally handle the rollercoaster that is labor and delivery.
Here are 20 moms sharing the one thing they wish they knew before it came time to push. We may not be able to completely prepare ourselves beforehand, but we can at least share our nuggets of earned wisdom for all those future moms who are reading every pregnancy book known to man and every baby book that has ever been penned.