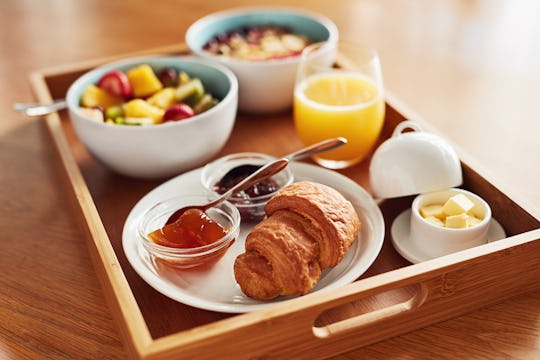 LumiNola/E+/Getty Images
20 Mother's Day Recipes That'll Make Up For Not Being Able To Go Out For Brunch
If you're used to enjoying a delicious restaurant brunch or dinner on Mother's Day, things will be different this year thanks to quarantine measures. Hopefully, you can still relax and have your food served to you, but whether it's you or your family doing the cooking, there are a lot of great Mother's Day recipes that are equal parts delicious to eat and easy to make. Another silver lining? You don't have to get out of your pajamas to enjoy them.
Usually, on Mother's Day, you get to be pampered by your kids, served breakfast in bed, or just be left alone to enjoy some chill time (no judging, it's your day, mama), but this year is different. Thanks to the pandemic, you likely can't get a massage or pedicure, have a mimosa at your favorite spot, or escape somewhere for some peace and quiet. Truth be told, it is kind of a bummer, but like with everything else during quarantine, the only option is to go with the flow and make the most of the situation.
If one of the things you most look forward to on Mother's Day is a meal of your choosing, you might still be able to have it, just at home. Whether it's breakfast in bed, a light lunch, savory dinner, or a fizzy cocktail, there's an easy recipe for it.