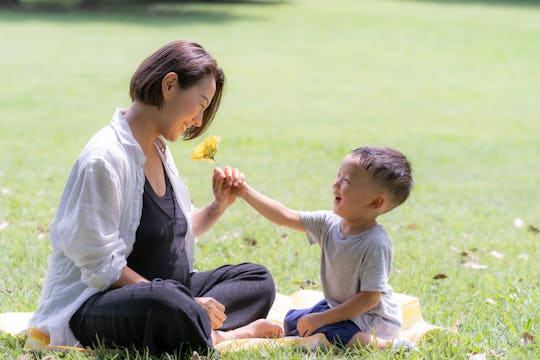 Yuji Ozeki/DigitalVision/Getty Images
20 National Sons Day Quotes That Capture The Pure Joy Of Raising Boys
Ask anyone who knows me and they will tell you that I am a loud and proud #boymom. Yes, they're quite noisy and smelly, but I love pretty much everything else there is about raising boys. Turns out there's a whole holiday for parents of boys, and these quotes for National Sons Day perfectly capture what it is to parent them.
Held on March 4, according to National Day Calendar, National Sons Day aims to honor sons and the people who raise them. From personal experience, I can say that raising a son is no easy feat. Parents want to ensure that their boys grow up to be well-rounded, kind, caring, strong, smart, and humble. With rampant toxic masculinity and less-than-stellar male figures prominently placed in public focus, society today makes that task harder than ever. Fortunately, I'm up for the challenge and my boys are absolutely worth it.
National Sons Day is the perfect excuse to shower your boy with as much love and adoration as possible. I know the precious moments my sons and I share will grow few and far between the older that they get, so I plan to soak up every single moment of their childhood while it lasts — every stinky little bit of it.