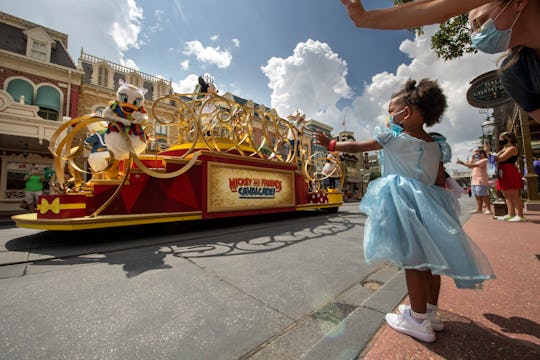 Handout/Getty Images Entertainment/Getty Images
Take A Look Inside Reopening Day At Disney World After Coronavirus Closure — PHOTOS
After four months of being closed to guests, Mickey Mouse and the rest of the gang were welcoming people back to the Happiest Place on Earth and these photos of Disney World's reopening give a bird's eye view of just how different things look in the midst of a pandemic.
On July 11, Walt Disney World Resort in Orlando, Florida reopened Magic Kingdom and Animal Kingdom to the public after closing in the middle of March due to state lockdown efforts to stop the spread of the coronavirus. EPCOT Center and Disney's Hollywood Studios are scheduled to reopen on July 15. Despite the fact that Florida has seen increased numbers of confirmed coronavirus cases in recent weeks — the state saw a record one-day total of 15,000 new COVID-19 cases, as Reuters reported — Disney World carried on with its planned reopening.
Ahead of the park's reopening, Disney laid out extensive plans to protect visitors and cast members, including working with a reduced capacity, requiring face masks on every guest, physical distancing, and mandatory temperature checks at the entrance as well as having hand sanitizing stations throughout the park. And these precautions are requirements as Disney states on its website that "you must follow all posted instructions while visiting Walt Disney World Resort." Disney also notes that anyone who visits the theme park "voluntarily assume all risks related to exposure to COVID-19."
And based on photos of the reopening from over the weekend, it doesn't appear as though too many people felt deterred by the new safety measures and potential risk of contracting the coronavirus.