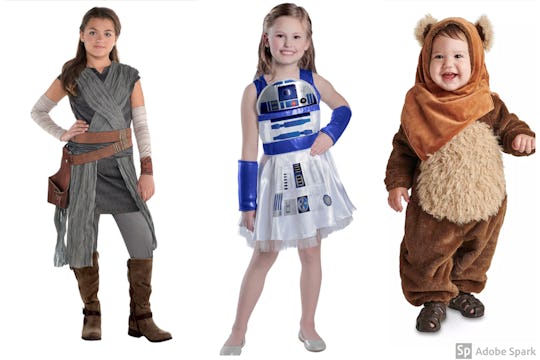 These 20 'Star Wars' Halloween Costumes Include Baby Ewoks, Porgs & Droids Galore
My kids have been trying to make a final decision about their Halloween costumes for several weeks now. Yes, we're that family who plans out our Halloween costumes way in advance, mostly to ensure there is plenty of time to order exactly what our kids want. Throughout the years, different hit movies and TV shows will rotate in and out as popular costume choices each fall. One classic theme that never goes out of style and has been a hit with families for generations are Star Wars halloween costumes.
As a fan of the movies and beloved characters since very early in my childhood — thanks to my amazing parents who rented all three of the original films for me to watch in a single day — I am living proof that the franchise appeals to a range of age groups. Because of this, you can almost guarantee that everyone in your family will find at least one Star Wars halloween costume that they will be happy roaming the galaxy in. (Or, you know, just the neighborhood.)
When you decide to go with a Star Wars halloween costume, the most basic decision that needs to be made is whether you are going to go for a classic character from the original movies, or choose a newer favorite from the current films. Either way you go, just make sure that at least one member of your trick-or-treating group is wielding a light saber to help guide the way on your Halloween candy gathering mission.