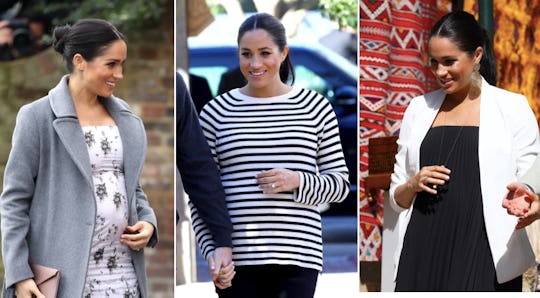 Chris Jackson/Chris Jackson Collection/Getty Images/ Tim P. Whitby/Getty Images Entertainment/Getty Images Tim P. Whitby/Getty Images Entertainment/Getty Images
20 Times Meghan Markle's Maternity Style Totally Nailed The Cozy Chic Look
The Duchess of Sussex is an accomplished person in many ways, all the way from her feminist-driven work to her credits as an actress. As for another area the mom-to-be has nailed? Many parents might agree that Meghan Markle's maternity style hits the mark in more ways than one. Arguably the best part of her pregnancy wardrobe is how it expertly mixes comfort with high fashion, a balance that can be difficult to achieve.
On Saturday, April 13, The Daily Express reported a rumor that Markle's maternity wardrobe cost a whopping $800,000 in American dollars. It's unclear if this was the case, but what is fairly obvious?Markle has a knack for creating comfortable yet regal looks while pregnant.
Thalia Brown Thall, Markle's former stylist, attested to this fact in an interview with People. "Her style was always classic and clean. She loved jeans with white collared shirts and little pointy shoes," Thall explained. "And sneakers, I think I've seen her in a thousand pairs!"
Yep, that sounds like the Duchess of Sussex to me. The mom-to-be has embodied this exact vibe ever since announcing her pregnancy in October. Ready to see it for yourself? Here are 20 times Meghan Markle's maternity style mixed comfort with high fashion.