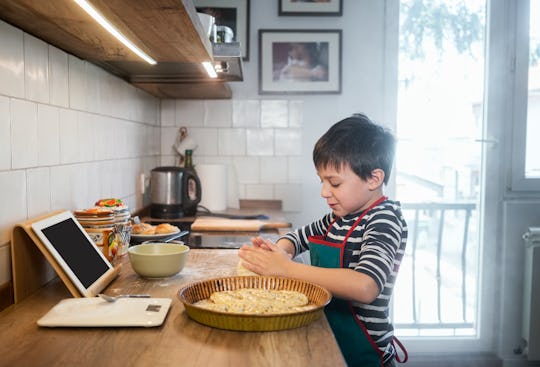 Vesnaandjic/E+/Getty Images
These 20 Virtual Summer Camps Have Something For Every Kind Of Kid
Kids and parents have experienced a lot of disappointments as a result of the pandemic, but missing out on summer camp is pretty close to the top of the list. While nothing can replace an in-person experience, there are virtual summer camps that can help to keep your kid busy and engaged, even if it's partly through a screen. And there's something for every kid: Whether they're into yoga, art, science, soccer, coding, or karate, there's a virtual camp for them.
Summer camp serves a few purposes: Kids get a change in routine during those lazy summer days; they have a chance to connect with friends with shared interests; and parents get a much-needed break. Since there's never been a time when parents have needed a break more than they do right now, summer camp cancelations have been as much of a blow to parents as kids this year. Enrolling your kid in an online camp will give you a minute to catch your breath and give them an opportunity to learn something new (sometimes in a group environment) and engage in the things they love from home. There are one-day, one-week, and even custom camp options so everyone can get a much-needed change of pace.
Even better? A lot of great camps that were once local to their area are now open to kids everywhere since they're online. That cooking camp your kid really wanted to try that was a 45 minute drive in rush hour traffic could be a viable option now that it's online. They can even try camps across the country. This is a great opportunity to support your child's interests, your own mental health, and maybe even a local business. These are some of the best options out there.