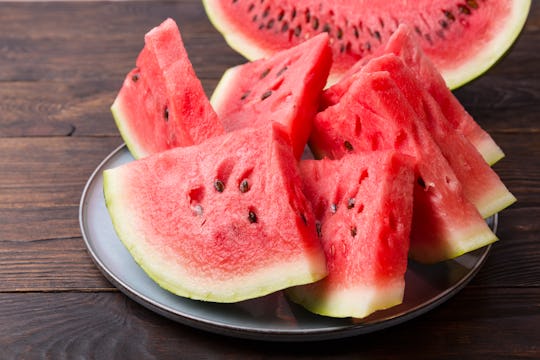 Yulia Naumenko/Moment/Getty Images
20 Recipes To Use Up All That Watermelon In Your Fridge
There is almost nothing like biting into a cool slice of watermelon on a hot summer day. But, once you cut one open, you've got several pounds of fruit on your hands that's going to go bad if you don't consume it. Which is why these recipes to use up your watermelon are perfect for enjoying summer's quintessential fruit without wasting a single bit.
Summertime is prime time for enjoying the sticky sweetness of a watermelon in any form. Even if your favorite way to eat one is to cut it open right on the ground on your front porch and dole it out piece by piece while your kiddos spit the seeds at each other, you're still going to have some left over. I mean, how many times can you pass watermelon out during a pool day or pawn it off on your neighbors before everyone's sick of the fruit? (No one gets sick of watermelon, it's a fact.)
But you can absolutely turn your watermelon leftovers into a refreshing cocktail, toss it up in a summer salad, or create a tasty dessert with the right recipe. These recipes will help you savor your favorite summer fruit right up until the sun sets on the season.