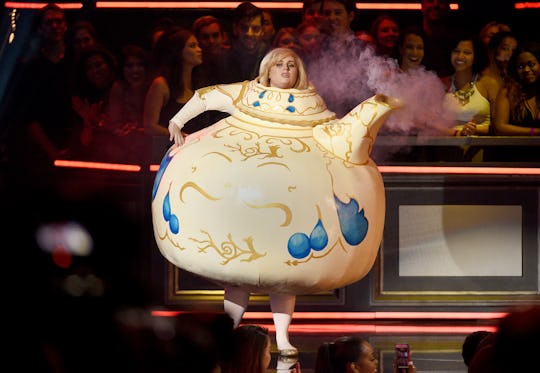 Kevork Djansezian/Getty Images Entertainment/Getty Images
2017 MTV Movie & TV Awards Memes & Tweets
Every year Hollywood comes together for arguably the most fun awards show there is. The MTV Movie Awards has been a staple in pop culture for years, with notable moments that will never be forgotten. However, this year the show was even bigger and better because not only did the award show recognize films, it also celebrated the best of the best in TV as well. With more awards to give and even more celebs in attendance, it's no surprise that there was also a plethora of memes and hilarious tweets from the night. Below are just a few of the best 2017 MTV Movie & TV Awards memes and tweets.
It's not surprising that there were a lot of funny moments from the award ceremony. First-time host Adam Devine may be a newbie to hosting, but he's a veteran when it comes to comedy. The Workaholics star brought his A game by making memorable jokes about "getting" what viewers couldn't stop talking about on social media. There were also a number of moments that really got people talking. Specifically, viewers have already made Hugh Jackman and Dafne Keen's acceptance of their Best Duo award into a meme and you can expect to see it used repeatedly in the upcoming days. Even so, it's probably still not enough to overshadow the Oscars Best Picture mishap, which will probably go down as the best meme worthy moment of the year.
The Claws Were Out
Fans absolutely loved the Logan costars "Wolverine" faces on stage and couldn't help but turn it into a meme.
Adam Gets It
The host took "The More You Know" meme and made it into his own with "Adam Gets It."
A Power Entrance
Camila Cabello entrance into the Fast and Furious musical performance, revivals Lady Gaga's entrance into her Super Bowl performance.
The Trailer That Scared Us All
During the ceremony, a new clip from the new It remake aired, scaring literally everyone.
Was Get Out Robbed?
Whether fans thought Get Out or The Edge of Seventeen should've won, almost everyone was surprised Beauty and the Beast walked away with the win.
Squad Goals
The 13 Reasons Why cast gave us serious squad goals when they presented the Best Show award.
The Relatable Remarks
There were a lot of new faces at this years award show and many people felt out of the loop.
Best Movie Vs. Best TV Show
Typically, the best movie is the last award given out at award shows, but MTV decided to switch up and gave out the Best TV show award last.
The Closing
Odds are Devine will definitely be feeling that tomorrow.
Either way, these memes offer up the perfect summary of an unforgettable night.