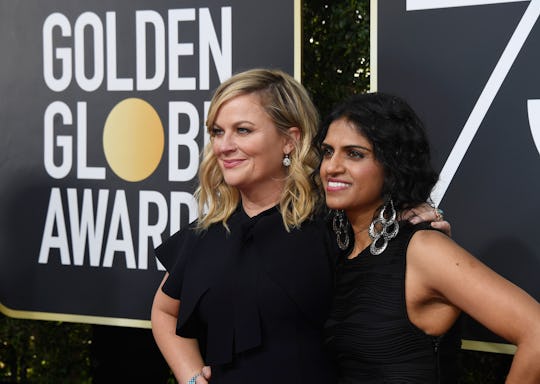 Frazer Harrison/Getty Images Entertainment/Getty Images
Hilarious Tweets & Memes From The Golden Globes To Relive The Night Again & Again
Award season is an exciting time for many reasons. You get to enjoy a cavalcade of gorgeous gowns and stunning suits while rooting for your favorite project to get the acclaim it deserves. But the best part of any award show is when something truly unexpected happens: a shocking win, a hilarious gaffe, an incredible speech. Luckily, these 2018 Golden Globes tweets and memes capture all the most memorable moments from the night.
You never know just what will become a meme going into an event. Something that might seem utterly innocuous at first will take off like wildfire thanks to the comedy skills of countless Twitter users. But memes aren't the only way to immortalize key instances from the Golden Globes. Sometimes a solo tweet sums up something that happened during the show so well that you can't hit that little heart button fast enough. This year's ceremony struck a more somber note than years past due to the awareness being raised for survivors of sexual assault, but whether it was serious or lighthearted, there were plenty of moments that viewers chose to comment on.
There are more where these came from, but some of the most on-point tweets and notable memes from the 2018 Golden Globes are compiled here for your perusal.
Best Friends For Life
When Nicole Kidman took home the first award of the night, Reese Witherspoon spoke for everyone watching at home. Her rapt adoration in the audience was so sweet to see, and it's bound to lead to a meme or two.
TFW You're Not Impressed
Viola Davis' acting skills are legendary — no one needs to be told that twice. But in addition to killing every performance, her range of facial expressions perfectly sum up our sentiments, exactly.
You're Tearing Me Apart
When James Franco brought Tommy Wiseau on stage, viewers couldn't get enough of it. The Room jokes just write themselves.
A Little Bird Told Me
When Allison Janney showed up to present with a bird pinned to her shoulder, it was not a very literal interpretation of one of the nominees. It was a more glamorous nod to her character in I, Tonya.
Six Degrees Of Separation
I'm not sure that's how the winners are determined at award shows, but there is a certain kind of logic to it.
R.S.V.P.
It's a little too soon to say the patriarchy is dead on arrival, but at least everyone is already dressed for the occasion.
Hashtag Relatable
If Oprah was sitting just a few feet in front of you, who wouldn't lose their train of thought?
Oprah Gets All The Time She Needs
Speaking of Oprah, her powerful speech upon receiving the Cecil B. DeMille award was one of the absolute highlights of the night. If Oprah wanted to talk for all three hours of the ceremony, then I'm pretty sure no one would be opposed.
Choose Your Own Adventure
There was a reaction for every occasion in the audience at the Golden Globes tonight. Supportive? Horrified? Confused? These actors made good on their accolades and provided you with whatever you need for your future memes.
All Male Nominees
When announcing the nominees for Best Director of a Motion Picture, Natalie Portman pointed out that they were all male — and earned herself some new fans in the process. The evening was all about standing up for women, so it seems a little suspect for women to be missing from the category.
TFW The Night Is About To End
Hey, it's a long show — it's totally understandable to get a little sleepy. Just kidding, of course. Frances McDormand's surprise gave way to a really good speech during her win for Best Actress in a Motion Picture Drama.
Major Yikes
It's still too early to tell how 2018 will turn out, and nothing captures that trepidation better than Willam Dafoe's face right here.
She's Got You Covered
That's right: Viola Davis gave you not one, but two perfect memes to carry into the next twelve months. This is why the woman has an Oscar, people.
There were so many great moments at the 2018 Golden Globes, from the surprising laughs of the opening monologue to the speeches that kept the message of Time's Up front and center. And thanks to Twitter, you won't forget a single one.
Check out Romper's new video series, Romper's Doula Diaries:
Watch full episodes of Romper's Doula Diaries on Facebook Watch.