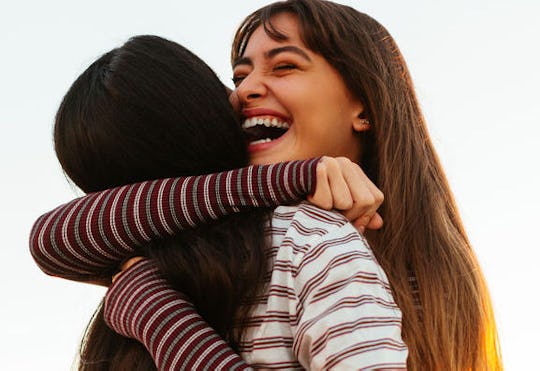 BONNINSTUDIO/Stocksy
21 Freakin Hilarious Things You Need To Text Your Bff On Nat'll Best Friends Day
Have you figured out how you're going to celebrate your bestie this National Best Friends Day? Odds are you're both going to be busy on the day (it's not a major holiday, after all), but you can send still your BFF a funny text for National Best Friend Day. It'll make their week.
National Best Friend Day falls on Saturday June 8 this year, according to National Day Calendar, so hopefully you can at least take advantage of the weekend and grab a meal with your best pal. I mean, it's the least they deserve for telling you your new haircut looks good (or bad), giving you pep talks when you have to potty train your 2-year-old, and sending you memes about 90 Day Fiancé. You should probably dedicate a whole day to them, in the vein of Leslie Knope's love for Ann Perkins, but the reality is it's not always possible to stop everything when you have a family to hang out with. This year, a text might have to suffice, but you can make sure it's the kind of message that will make her day.
Read on for some funny text options for the holiday that will have them rolling. Cheers to you two.