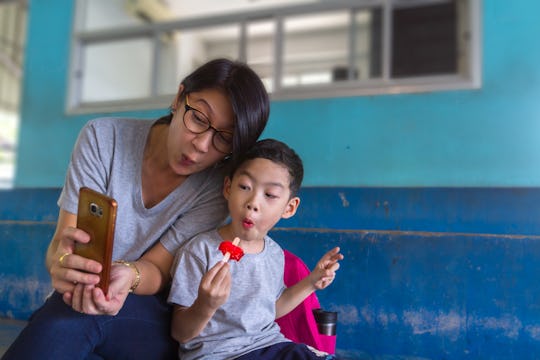 Krisda Ponchaipulltawee/Shutterstock
These Hilarious Instagram Captions Perfectly Capture What Mother's Day Is All About
This May 10, moms across the country will stand with their thumbs hovering over their phones, attempting to craft hilarious Instagram captions for Mother's Day to capture the bliss... the joy... the wonder that is maternal love.
Of course, this Mother's Day is also a bit different than others. With much of the country still under lockdown or slowly emerging from quarantine, there likely won't be the usual brunch at your favorite cafe with the kids screaming and throwing crayons while you attempt to eat a cold omelette. Your husband might not be able to grab a weird scented candle for you at Target that you will have to pretend to be delighted by. No, this year families might need to get creative. Which is slightly terrifying, I know. But I mean, who doesn't like a delicate dandelion bouquet? Or mimosas mixed from apple juice and Nyquil?
Jokes aside, this Mother's Day will likely carry even more meaning for moms, as recent events have sharply pulled into focus the things that really matter. Right now, I feel so lucky and grateful for every day I get to climb out of bed and wrap my arms around my kid and my partner. Sure, two hours later I might be hiding in the bathroom, pretending to take the world's slowest shower in order to have two minutes of peace, but that is neither here nor there.
Anyway, this May 10 is supposed to be a day of rest and celebration for mothers everywhere! (To which moms everywhere say, "Lol right.") So allow me to help lighten the load that day by offering a selection of carefully considered Insta captions… captions perfectly suited to celebrating the glory of motherhood.
This article was originally published on